Several weeks ago we posted Annie's "Dear Netflix" letter with a promise of more to come (Annie said, "I have a Part 2 of my Dear Netflix that hits upon how you can build off The Little Prince movie to get to the above. Stay tuned.."). We've been watching her as she's been gathering her thoughts. She told us that maybe she put the cart ahead of the horse.
People need to know why I'm so passionate about protecting this movie!
She then leaped to the "What's worth living for" scene from the "The Princess Bride" movie.
What's worth living for?
Yup, true love!
In regards to Mark Osborne's "The Little Prince" movie, what makes it worth protecting is the "true labor of love" from all involved. Then she proceeded to gather a bunch of quotes as proof-points.
And after that, she discovered that Mark Osborne had a "magic suitcase" which he used to pitch his idea about how to protect St. Exupery's classic tale. Then, she started jumping up and down as she stumbled upon Mark Osborne's Facebook page where he had uploaded pictures of his B-612 suitcase.
The wheels were turning and if anything, what we needed to do was help her focus a bit so she could present her discoveries in a way that would ignite the imagination of those interested in learning why "This Prince" was so darn important to honor and protect.
So here we go. You have two versions of the slides she put together: a 5-minute YouTube video of the slides and then a Slideshare version, which lets you "slow your roll" and really think about what's being said.
And further down in this post, you can link to the magnificent soundtrack which she found and "play-listed" on Spotify.
---
---
---
Thanks for viewing Annie's tribute to the labor-of-love that went into the production of "The Little Prince" movie.
Stay tuned for her Netflix ponderables. From what we've seen (looking over her shoulder), she's truly on to something.
—The Gang
Note: Just click the "Dear Netflix" tag to get all related posts.
---
---
The superb soundtrack on Spotify:
---
And something fun…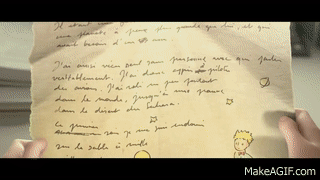 ---
---
---