According to a story in The Wall Street Journal, "The Secret Life of Pets" opened to a whopping $103.2 million over the weekend. The release from Comcast Corp.'s Universal Pictures scored the biggest-ever debut in the U.S. and Canada for an original movie.
In an increasingly competitive environment, a handful of sequels and comic- book adaptations such as "Star Wars: The Force Awakens," "Jurassic World" and "Deadpool" have dominated the domestic box office recently. The one exception has been family animation, a genre in which audiences have demonstrated an openness to original ideas not present in live action.
As we see it, the rush to conclude movie goers openness to "original ideas" is what led to this movie's successful opening weekend, seems to have left out a really obvious reason "Pets" had astonishing box office numbers. It was a story that not only resonated but probably has been imagined (and reimagined) in the minds of pet owners since like forever.
Seriously!
So let's look at some interesting ponderables:
According to the American Pet Products Association (APPA), an estimated that 70-80 million dogs and 74-96 million cats are owned in the United States. Approximately 37-47% of all households in the United States have a dog, and 30-37% have a cat. That's a lot of animals.
Three years ago, DirecTV ascertained there was a need in the market for DogTV, a channel designed to keep dogs occupied so they don't chew up the furniture and poop on the carpet while their owners are away.
A Slate story focused on the reasons it wouldn't work. And a Forbes story (TV For Dogs (Not As Weird As You Think) delves into a lot of detail behind the creation of DogTV.
Fast forward to 2016 and you get this from the blog of Petcube.com:
…we've known for a long time that animals are doing so much more than sleeping. From swinging on the chandeliers to sneaking treats, here's what 13 pet parents discovered their pets are doing when they filmed their secret lives.
Yup! These are just a small sampling of the things pets are doing. Multiply the activity by the number of stay at home dogs and cats, and you could have endless Pet Owner Generated Content (POGC).
The takeaway to you filmmakers and studios out there — find a universal story with legs (two or four…is okay). Try to focus on:
A story that resonates.
A story that rewards the viewer ("I knew it. I knew it all along…).
And possibly a story that energizes viewers to tell their own stories.
Just don't crank out original content for original content sake. What's essential here is definitely invisible to the eye!
That's a wrap! Thanks for reading and #SCMF!!
—The Gang
Below is some bonus content. Enjoy!
---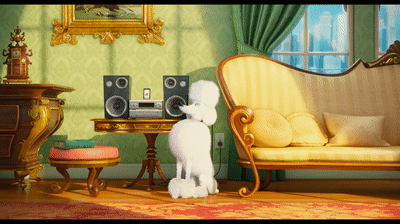 ---
---
---