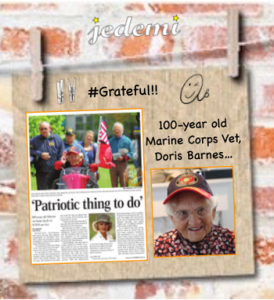 ---
It is never too late to be thankful. You can do it every day with every encounter. But on Thursday, the thanks and celebrations were ratcheted up. Why? Because it was Eleven-Eleven as in 11 November, as in Veterans Day.
My Dad was a World War II vet and in my eyes, I still see him sitting in the car, participating in a parade that celebrated veterans.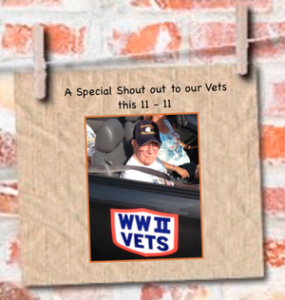 As I write this, I am looking at the model Army Jeep of his that I was gifted when he passed. I learned more about his service from his memoir and have to smile. He was the bugle boy for his company. He has a song!
Then I read about Doris…
As we rolled into this week, the 2021 Veterans celebration, I spotted a story from the Shore that I'm sure my Mom and Dad would have enjoyed (maybe they did as they followed from above).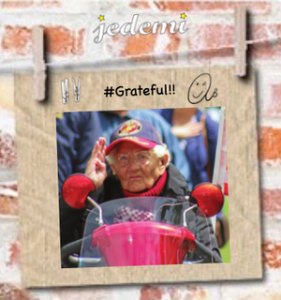 Their paper featured 100-year old Marine Corps vet, Doris Barnes who is a regular at veteran events in Ocean City, including the Memorial Day and Veterans Day services, held at Veterans Park or inside at the Ocean City Tabernacle. She joined as 22-year-old who wanted to do what she could for the war effort that cost so many of her friends and classmates so much.
She gets around inside with the help of an aluminum cane, but Barnes is often seen around town making use of a bright red scooter, with the Marine Corps emblem and her name in gold, a familiar sight at multiple events. She has a cut-out image of herself, close to life size, against the white fireplace of her home.
Thank you, Doris!
---
As I was reading, I came upon another piece that struck home (or, at least, stuck in my mind). From Santa Clara, California…
Raymond Watts, president of the United Veterans Council of Santa Clara County remarked that Veterans Day is meant to be a celebration and not a solemn event like Memorial Day in May. The holiday — originally known as Armistice Day — was born out of the celebrations of the Nov. 11, 1918, cease-fire that ended World War I. In 1954, it was renamed Veterans Day to also honor the millions who fought in World War II and Korea.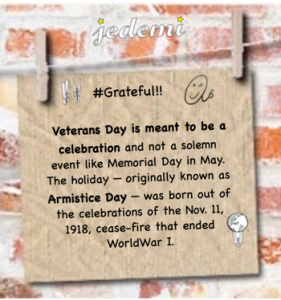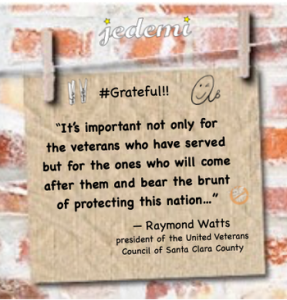 ---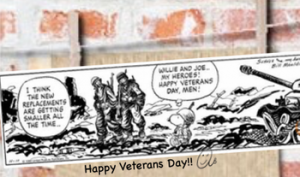 As the day, Eleven-Eleven arrived, I recalled a newsletter and post I did for Veterans Day. Did some diggin' to locate it, only to find it was from five years ago. Whoa! Time flies.
I read it over and thought — it is indeed timeless! So here goes a link to it. Enjoy!
Thanks for reading! #Grateful #SCMF
—30—