We posted this to Twitter and our buddy the Enchanted Jukebox gladly provided us with this. Enjoy!
---
And there's more!
Benny Goodman – Sing Sing Sing from Carnegie Hall 1938, Newsreel footage!
---
Benny Goodman Orchestra "Sing, Sing, Sing" Gene Krupa – Drums, from "Hollywood Hotel" film (1937)
---
Song only:
---
One of our favourites!
British Army musicians flashmob: "Sing, Sing, Sing" in Chamberlain Square, Birmingham, 21 Sep 2013
---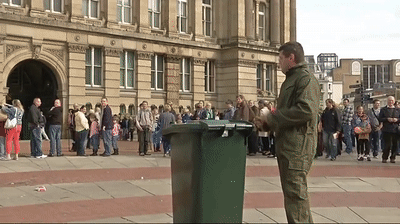 ---
Spiderman theme used "Sing, Sing, Sing." Discovered at the WhoSampled.com website.
---
Don't forget that the 1993 movie "Swing Kids" featured Louis Prima's version.
---
And "Big Night" is where Annie's head went when told Louis Prima was the originator of "Sing, Sing, Sing" not Benny Goodman.
Happy listening!!