Goodbye, June! Hello, July! Ready for summer to really begin? We are, for sure. Yet there is something "Juney" that's still bugging us: Finals, Finals and a season final. In June we bid goodbye to the NHL hockey season, the NBA basketball season, and the sixth season of HBO's Game of Thrones (GoT).
We only mention GoT as a point of reference. Its ratings are huge for the "It's Not Television, It's HBO" channel. Per a Wall Street Journal article appearing before the season finale, "Game of Thrones" has averaged 23.3 million viewers an episode (through June 17). That's a 15% increase from last year. The figure includes broadcast, on-demand and streaming audiences.
A comparable the Journal used was the last week of the 2015-2016 broadcast season, where "NCIS," one of the most-watched dramas on network TV, had about 22.1 million viewers. That figure that includes live viewers and those who watched the episode within the seven days after it aired.
So scripted programming was in the twenties (23.3 million and 22.1 million).
How did Reality TV fit?
According to Variety, the finale of Fox's "American Idol" attracted its largest audience in a couple of years. The half-hour averaged 14.5 million viewers, which made it "likely that its average for the night will finish in the vicinity of 13.4 million. Prior to its last night, the show's season peak came with its premiere on Jan. 6, which did a 3.0 in 18-49 and about 11 million total viewers. The show had averaged about a 2.3 same-day rating and 10.5 million total viewers on Wednesdays and Thursdays this season.
Got that? Please consider this a "back of the envelope" analysis…
Not TV = 23.3 million viewers
Network (scripted) TV = 22.1 million viewers.
Network (reality) TV = 11 million to 13.4 million viewers
Now for our featured numbers from "Live" Sports on Network Television:
NBA Finals (Game 7) – Sunday Night, Network (ABC) TV = 30.8 million total viewers
NBA Finals (all games average) = 20.3 million viewers
Source: AdAge
NHL Stanley Cup Finals between the Pittsburgh Penguins and San Jose Sharks:
NHL Stanley Cup Final (Game 6) – Sunday Night, Network (NBC) TV = 5.41 million viewers .
NHL Stanley Cup Finals (six-game series average) = 4 million viewers and a 2.3 household rating, making it the third lowest-rated Final since 2006.
Notable Quotable:
To be sure, this year's NHL final had just about everything going against it, starting with a matchup featuring the decidedly non-traditional market that is San Francisco-Oakland-San Jose (the Bay Area is hardly a hockey bastion) and a Penguins squad that is perhaps one of the most despised franchises east of the Mississippi.
Source: AdAge
Now hold onto those numbers as we shift gear and discuss why ratings matter.
Eyeballs for Consumer Brands – the True End-Game
Yup, the title of this section says it all. Thanks to iSpot.tv we've got some really interesting numbers to ponder. They estimate the NBA Finals generated some $281.5 million in ad sales revenue for ABC/ESPN. And the NHL Stanley Cup Finals were worth a mere $45.8 million for NBC Sports.
Which brands benefited the most? These ABC advertisers:
Auto: Toyota, Nissan, Kia and Honda
Studios: Universal Pictures ("The Secret Lives of Pets," "Jason Bourne," "Warcraft"), Warner Bros. ("Central Intelligence," "The Legend of Tarzan") and Twentieth Century Fox ("Independence Day: Resurgence," "Mike and Dave Need Wedding Dates").
So revenue-wise, the NBA Finals provided a nice pop for Disney/ABC. For Comcast/NBC's NHL Stanley Cup effort, not so much. To us, it seems like they are heads-down preparing for their cash cow — the Olympic Games in Rio this summer.
That being said, we wanted to present a different take the numbers — our Jedemi AWSI take.
AWSI: Drama = Higher Ratings
Rick Porter, editor of TV by the Numbers indirectly provided us some "food for thought," as we got to look at ratings side-by-side.
Week ending 12 June
Week ending 19 June
The NBA Finals ruled the top four spots in the week ending June 19, with the fifth being a reality TV show ("America's Got Talent"). The previous week, the NBA won the top two, followed by "America's Got Talent" and another "Live" event — the Tony Awards.
Now take a closer look at those numbers. Games 3 and 4 of the NBA Finals sat at approximately 16.5 million viewers. Then there was a leap, with Game 5 and 6 hitting the 20.5 million viewer mark. And then, Game 7 nearly doubled 3 & 4 with a whopping 31 million.
Doubled?? Really?!
Let's hit the way-back machine for a second. In 2001, a cable television network channel called TNT (as in Turner Network Television), launched a "We Know Drama" campaign to promote their new focus on dramatic programming, including sports and off-network syndicated dramas such as Law & Order, NYPD Blue, ER and Judging Amy.
The word we want you to focus on is Drama.
Now look at this Notable Quotable:
We found this on the Videonuze.com.
According to Jared Feldman, Canvs's CEO and co-founder, "hate" emerged as the most important predictor of following week viewership for reality and drama series. For every 1% increase in "hate" sentiment, Canvs found a .7% increase in adult 18-49 viewership of the subsequent episode as measured by Nielsen and reported by TVbytheNumbers.com. For reality shows that was higher than "crazy" (at .3% and "love" at .2%). For drama that was higher than "funny" and "love" (each at .3%) and "crazy" at .2%.
Still with us? The word to focus on here is "hate."
Tying it All Together
At the end of Game 4 of the NBA Finals, a dramatic event took place. We mentioned it in a previous post — "The Step-over. game"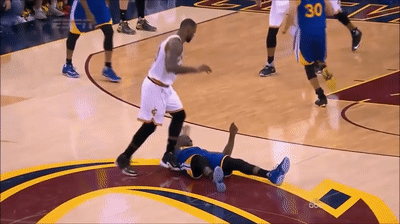 Unsportsman-like? You betcha! Form of disrespect? Absolutely! You can read about it here, here and here.
The point being — there was lots of hate leading into Game 5 and that's before the suspension. The Warriors (AKA Dubs) were forced to play without Draymond AND another player (so much for "Strength in Numbers.").
Short bench plus loss of their key defender equals Cavs blow-out in Game 5 (with that first jump in ratings).
In Game 6, folks tuned in to see "the hate" as Dra returned to the line-up. This time, the Dubs were without their starting center as Andrew Bogut went down with a knee injury in the third quarter of Game 5. Again, the Dubs lacked "Numbers" and again, they get beat. All setting up for the Game 7 showdown.
We all know how that ended with Disney / ABC and the consumer brands buying time during the Finals, "Snoopy dancing." And as already noted, Nike won big time too. The exposure for them — "priceless"!
Key Learnings: Hate is Good…
So indeed, drama equals ratings. You hear that Comcast/NBC??
We were curious (#SCMF) and did some research into what kind of hateful / unsportsmanlike behavior would have been grand enough to "juice" the NHL Stanley Cup Finals ratings.
For sure, snow showers are insulting. If Penguins captain, Sidney Crosby snow showered Sharks goalie, Martin Jones, that would be pretty bad.
But what about this?
Check it out! Penguins' defenseman Kris Letang stole an opponent's stick and used it for himself.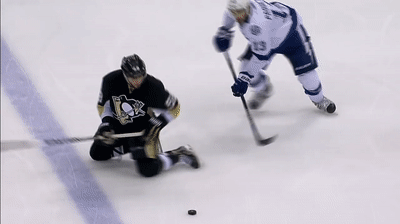 Now, let's inject something like that into the Penguins / Sharks series. Let's just say that Penguins Captain Crosby finds a way to grab the stick away from the Sharks best defender, Brent Burns, and he plays with it AND he doesn't get put into the penalty box. All eyes would be on retaliation.
If Burns popped Crosby, he would probably be given a major AND a suspension since Crosby is pretty much "protected" by the league and its primary broadcast network in the States.
Now "that's drama!" and that will guarantee ratings beyond anything experienced in NHL Stanley Cup history (per AdAge, the June 15, 2011 Stanley Cup Final showdown between the Bruins and Canucks, drew a 38-year NHL high 8.54 million viewers). We're thinking a guaranteed double-digits, putting it into that Reality TV / American Idol territory mentioned above.
Yeah, but…
We made our point. While we have issues with the influence of broadcast networks on sporting events, we are setting that aside. As Doc says, "it is what it is." We acknowledge that its all "a game of ratings."
That's a wrap! We can finally put this issue to bed and turn the calendar page to July where we can focus on baseball, the upcoming All-Star game AND the possibility of pitchers participating in the home run derby (a win for the Entertainment & Sports Programming network, AKA ESPN and Disney).

Thank for reading and, as always, #SCMF!
—The Gang
---
*************
Bonus Content:
Notable Quotable – Scott Ostler, San Francisco Chronicle:
Some people wear a halo. For me, LeBron James will always wear an invisible asterisk over his head, in place of his king's crown. Until he convincingly denies that he politicked to have Draymond Green suspended, King James will be a stupendous player who wasn't strong enough to win the NBA championship straight-up.
---