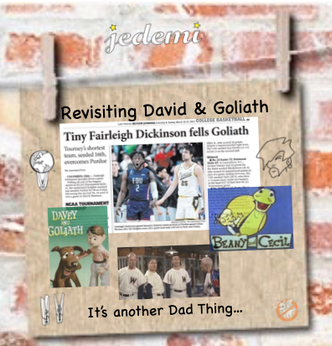 ---
This week, Mr Pete found his inspiration from an Apple News sport story about how the Number 16 seeded Fairleigh Dickinson beat top-seeded Purdue in the first round of the NCAA ("March Madness") tournament. A side trip down memory lane and an inspired view from above ensue. Enjoy! -Annie
---
Like most children of my generation my/our main source of entertainment was TV and Radio. At night I hid a transistor radio under my pillows, and stayed up way past my bedtime listening to games of the local New York sports times (NY Rangers for hockey, NY Knicks (yes!!) for basketball).
During the day our television viewing habits were overseen by our parents. The "grownup" shows were past our bedtimes and off-limits any way. No "Room 222", No "Laugh-In", No "what you see is what you get" "Flip Wilson Show".
What that means is the Gladue children's TV viewing diet consisted of cartoons and children game shows.
[editor note: No Batman and definitely NO "Three Stooges"]
Many shows originated from New York television stations. An example is "Wonderama", which was a favorite in our household.
The repeated viewing of WB cartoons (that means mostly Bug Bunny and Looney Tunes) had a sort of brain-washing effect. Many of my siblings can recite word-for-word full episodes (like some people know the movies "Pulp Fiction" and "Wall Street" by heart). This skill was maintain completely well into their adulthood.
TV, Tie-ins and Me…
My TV memories were developed based on the related tie-in toys I was gifted (those marketers were so darn smart, said my editor). For example, I was the proud owner of a stuffed Cecil the Sea Monster Doll (from the cartoon Beany & Cecil) at a very young age.
>
---
When I grew older I had a plastic Speed Racer helmet (from the cartoon Speed Racer).
The one show that my parents actually encouraged me to watch was "Davey and Goliath". It was on Sunday mornings usually after Mass and it split it's hour with the "The Gumby Show" which featured clay guy Gumby and his BFF —a red horse named Pokey. I found the show quite amusing, especially when the bullies, appropriately named "the Blockheads," appeared.
These two characters literally had heads that were blocks, with a big B on the side. At the end of each show, during the closing credits Gumby simply skated away from whatever situation accorded that episode.
For "Davey and Goliath," I found myself identifying with the often confused Davey who spent a lot of time asking the adults questions. And when no adults were around, he would ask his dog Goliath for his advice (which Davey didn't always follow).
A classic response: "I don't think that's a good idea Davey."
Even though we already owned a dog, I often pestered my Dad for another dog as our basset hound, Sam, wasn't up for giving sage counsel.
"But Dad, a talking dog would help me stay out of trouble!" I exclaimed.
I never understood why he would chuckle and shake his head no. Years later while taking a theology course in college, I had a teacher who suggested to the class that Goliath never really talked but was actually Davey's inner voice, his conscious. Well my mind was blown away, but that theory made perfect sense. I only wished that my Dad would have taken the time to explain that to the younger me. In retrospect, I guess I was probably too young to understand such things.
---
The Goliath Connection and Televised Sports…
Watching sports on TV with my Dad proved to be a challenge because it wasn't clear cut in terms of winners and losers (I'd do the math even to no avail). You see, my Dad had a thing for under dogs. He always pulled for them in whatever contest he was watching. In fact, he even suggested an alternative set of rules:
"Each team should be forced to have a certain number of short guys."
Later he would amend the rule: "Those short guys should get equal playing time as the tall guys"."
My siblings and I would smile and remark, "But Dad we need the tall guys to win!"
He had a prompt retort, "Oh yeah… The tall guys tired easily. The short guys have speed and spirit," and apparently more endurance.
His thinking was sport agnostic — meaning applied to baseball, football, basketball (editor note: not hockey or soccer as he didn't like to watch those sports).
Gotta Have Heart…
My Dad liked some musicals and actually knew the words of this dandy from "Damn Yankees":
You gotta have heart
All you really need is heart
When the odds are sayin'
You'll never win
That's when a grin
Should start.
…and now the NCAA March Madness Connection
I must confess here that I don't follow college basketball, but my younger brother had forwarded an Apple News sport story recently about how the Number 16 seeded Fairleigh Dickinson (FDU) beat top-seeded Purdue in the first round.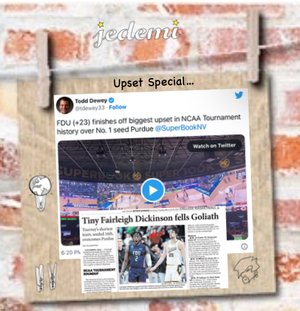 We had a branch of Fairleigh Dickinson University in our home town of Madison (it was another branch in the tournament). The story's headline proclaimed the victory as one of the biggest upsets in March Madness history. Deeper in the story, they reported that the FDU team was the "shortest" time in the tournament.
Wow! "Underdogs," "Short," and "Spirit" were on display.
A glowing example of what my Dad spoke about all the time.
[chest thump and point to the sky]
Yup, yet another occasion where I imagine my Dad is cracking a satisfying smile.
This tournament's "Davey" er, short guys, get to play another game (on Sunday). My prediction? You'll see…heart. Lots and lots of heart.
Thanks for reading! —Mr Pete
—30—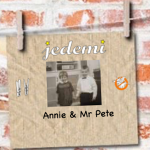 About Mr Pete
A music aficionado, Mr. Pete's mind and ears have no horizons. He has the uncanny ability to suss out the right song for the right time — a skill that is truly amazing. The Gang here at Jedemi enjoys his contributions.