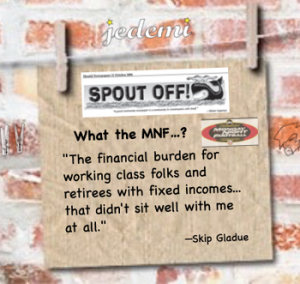 Editor's Note: This Thursday, the undefeated Philadelphia Eagles will be playing in prime time, at 8:15pm Eastern. For members of the Heritage Village where Mr Pete lives, the late start isn't conducive for group viewing in the community room, but that's to be expected with pro sports viewing on the East Coast. However, this season there's another challenge as Thursday Night Football (AKA TNF) has been moved to PRIME time (as in AMAZON PRIME).
The following is a story from Mr Pete that covers the present, the past and provides hope for the future. Scroll on and enjoy the adventure! —editor
---
It was an early Friday Morning at the Heritage Village, a 55+ apartment complex in South Jersey. I had just finished my Tai Chi session in the Community Lounge when a female resident approached me with something clearly on her mind.
"How did you like the football game last night?" she blurted out.
I had to confess to her that I only follow the local teams, and we show all the Eagles games in the Community Lounge (trying to plug my Activities Event). She continued her rant.
"Well, NO ONE CAN! Thursday Night games are an exclusive on Amazon now!"
I'm thinking, "Yes, and…"
"You gotta have PRIME," she said. And raising her voice another octave, she continued.
"I AIN'T paying for PRIME!!!"
I still had my Zen on and with a smile, pointed at our large screen TV in the Community room.
"WE have PRIME. I installed my account down here so we can have shared viewing experiences… with snacks." Before she could retort, I lowered my voice and hit her with an inside secret.
"You just have to wait till Bible Study clears out as they have the room booked that night."
Her eyes glared at me as I seemingly defused a perfectly good (and perhaps well-rehearsed) rant.
"That's NOT my point! I'm not asking for a solution from you. This is bigger!" She huffed and then walked out.
As I gathered my things to head upstairs, it crossed my mind. I've heard something like this before… The frustration in her voice… it was so familiar.
By the time I reached my room, it came back to me clearly —it was my mother who spouted off back in the day about a similar circumstance:
Monday Night Football had moved from the local ABC affiliate to sister station, ESPN.
Retired from her position as a columnist and correspondent for the Cape May County Herald, a written rant came naturally. It could have been something like this:
What the MNF…? Motivated Mom Spouts Off…
Monday night, when I entered the living room with fresh cookies to offer my husband Jerry while he watched Monday Night Football, I found him in front of a blank TV screen with earphones on and his trusty Realistic transistor radio at his side.
"They moved it," he said. "Now you need the next tier up on the Comcast plan and I'm not interested in giving them more money for a once-a-week event."
The next morning, I was fuming and he was calmly reading his sports section. With a smile, he told me he got more out of the radio broadcast than when he watches. Humm… might be onto something.
—30—
---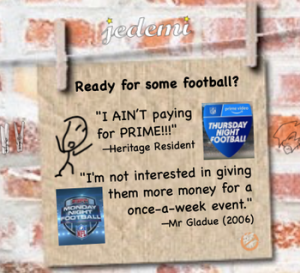 Part 2: What Annie Remembers:
Apparently, there's more to the story. The following is Annie's recollection. Enjoy! —editor
When Mr Pete asked me about mom's Monday Night Football rant, I told him that I could totally see her spoutin' off and then some. The following is based on true events with some tweaks.
To start, the "Spout" above was written by Skip (our Mom) after breakfast on Tuesday. She was going to work on another project but this topic wasn't leaving her alone. She sent me an email where she proudly copy / pasted her "Spout Off," noting that it felt good to get this off her chest.
"It's awesome," I said. "Show Dad."
Agreeing that was a good idea, along with a way to get closure (feeling better, she wasn't hellbent on submitting it), Skip slipped her Spout Off onto Jerry's placemat along with his other reading material figuring he'd give it a glance, smile and set it aside. However, that's not the Gladue Way…
Our dad, Mr Strike When The Iron's Hot, worked his way over to his computer and… "Spouted Off" on Skip's behalf.
So now they both felt better and went about their day doing the usual projects.
That was, until Skip's editor at The Herald gave it a glance, then recognized the style and "submitted by" name. He gave her a call. Caught off-guard, she covered nicely with a chuckle.
When she hung up, she approached Jerry.
"Guess who that was?"
Looking up from his reading, Jerry gave her a knowing smile but played along.
"You got me, who?"
"I just got commissioned to do guest column for The Herald."
"Oh, really? You go ahead. I'll make dinner."
---
Part 3. What Pete Referenced.
The following is a re-creation of a guest column submitted by Skip Gladue to her long-time editor at The Herald who published it without edits. —editor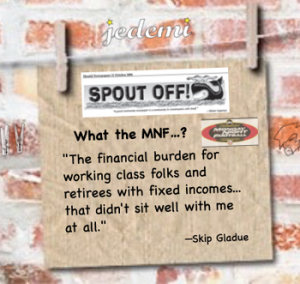 What the MNF…? Mad Over Monday Night Move …
My husband Jerry's Monday nights are like my Thursdays, she said. Don't mess with them. When I walked into the living room with a plate of fresh cookies (CCs as in chocolate chips) to offer him while he watched Monday Night Football, the television was off. I found him He settled into his recliner with his earphones on and his trusty Realistic Radio Shack transistor radio at his side.
That's weird. I know it couldn't have been rained out. I've seen them play in all kinds of terrible weather. My curious mind wanted answers.
At first he didn't notice my entrance as his eyes were closed, but the smell of fresh CCs got his attention. Pointing to the TV, I asked, "What gives?"
"It's been moved," he said.
"Moved?? Like where? Who moved it?"
NFL? I don't know. But Monday Nights now require the next tier up on the Comcast plan and I'm not interested in giving them more money for a once-a-week event.
I walked away thinking he's got a point. His Phillies and Eagles can be found on the local tier. Up until now, and for as long as I've been paying attention (starting back with Dandy Don, Howard Cosell and those canary yellow jackets), football was a Monday Night ritual found on that played out on our local ABC station.
Times change. Business deals are struck and there's money to be made, I guess. To help pay the NFL for the rights to broadcast the Monday Night Football (MNF) games, corporate decided to move them to ESPN (that would be the Entertainment Sports Programming Network). I suppose Comcast was happy because more people would jump tiers to gain access, so more money for them too.
Yeah, I know. Paying for eyeballs. That's what this about. I did my share of radio broadcasts back in the day when my company, GE was the title sponsor.
But still… The financial burden for working class folks and retirees with fixed incomes… well that didn't sit well with me at all.
The next morning at breakfast, as I was still fuming about this MNF move, Jerry was calmly flipping through the morning paper's sports section. Looking up he smiled.
"This write-up really doesn't do the game justice. And come to think of it, the television is a bit over-rated too."
Pointing to his ears, he said, "I got a lot more out of the radio broadcast. I could see the game in my mind's eyes. Guess I have a new Monday night routine."
He's onto something. All fired up for my "Mad as hell" moment, his calm acceptance of the situation was enough for me to shift gears —back to gardening and my other editing projects.
Then a thought crossed my mind…
NBC… you are on notice. Don't mess with MY Thursdays. "ER" doesn't port well to radio.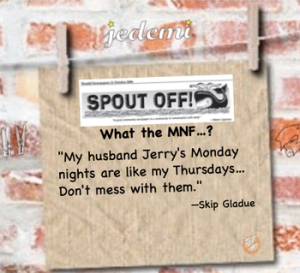 —30—
---
Part 4: Still More to the Story…
An Editor's Observation and Conclusion: Back to where we started… The undefeated Eagles are playing the Texans this Thursday night. It just so happens that the other team revered by Mr Jerry, the Phillies, will be playing Game 5 of the World Series at nearly the same time. Imagine the Community Lounge challenge Mr Pete will be facing… But will he?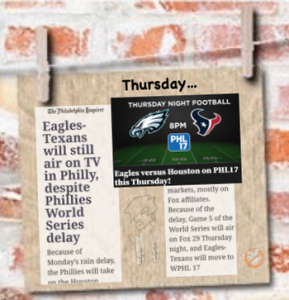 By unearthing this story, a solution presented itself…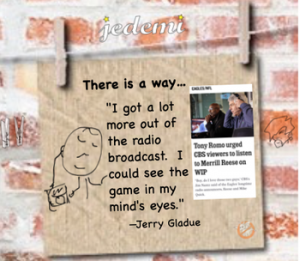 Phillies on the big screen and Eagles on the radio. Why not? Annie says she does that all the time as she doesn't have the patience to actually "watch" baseball. Only difference, if not a football game, she's listening to hockey.
---
Fear not working-class folks and retirees, radio IS your friend.
Gathering around listening to radio is not "unheard of" either. A whole generation grew up doing that. These days, streaming audio is the thing… a wonderful useful thing!
With a little ingenuity and determination, you can have access to enjoyable experiences. Fear not. But if you feel better, please Spout Off … just keep it to 600 characters.
Thanks for scrolling! —Mr Pete & Annie (and Skip & Jerry)
—30—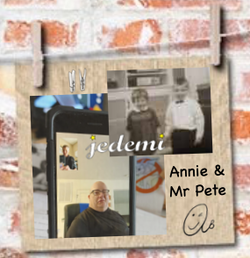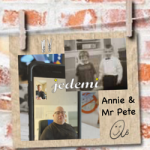 About Mr Pete
A music aficionado, Mr. Pete's mind and ears have no horizons. He has the uncanny ability to suss out the right song for the right time — a skill that is truly amazing. The Gang here at Jedemi enjoys his contributions.