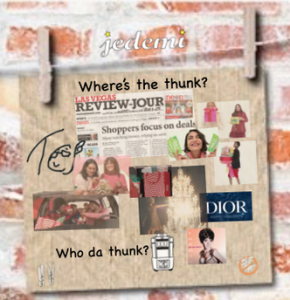 Editor's Note: This week I am proud to introduce my brother TC who we've all relied on in the past to score us deals… for flying and rental cars, for clothing, for appliances… you name it. TC has got it wired. So we are starting with some posts and may step up the game to other social media platforms. Enjoy! —editor
---
End of an era. My Thanksgiving edition of the LVRJ was the smallest ever.
Where's the thunk?
There used to be 5 dead trees worth of Black Friday Sale advertising on my doorstep that morning. Not that I was going to shop for anything this season.
I will say this, the money spent for holiday shopping is in the TV and Web advertising with nontraditional songs to catch interest.
Ponder this…
Target- 100% percent Pure Love by Crystal Waters
---
Kohl's- September by Earth Wind and Fire (Re-titled December)
---
And my favorite! DIOR XMAS with "Theme to Love Story" by my vocal goddess- Dame Shirley Bassey, featuring the UK's it girl Anya Taylor-Joy .
---
The Wrap:
Save the paper (and trees for that matter) to wrap your purchases. Embrace the 30-seconds of joy available via YouTube (when not disrupting your favorite streamed or broadcasted programming). And the Jedemi Enchanted Jukebox sez, Seek and Enjoy the original songs
Thanks for reading! -TC
—30—
Keep an eye out for more of TC's Deal Ponderables. Be inspired. Share what you learn. Inspire others.
—30—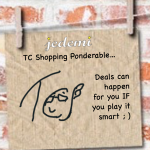 Bonus Clip
---