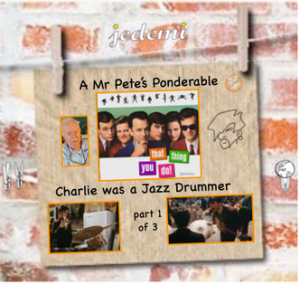 Was the Rolling Stones Drummer Charlie Watts, who passed away in late August of this year, the "Cary Grant of Rock n Roll"? For sure, Mr Pete discovered that "Charlie was a Jazz Drummer" and more. Read on…
---
A few years back, I was co-care keeper of my parents. One afternoon, as my brother Paul was whisking my mother off to one of her medical appointments, I found myself alone with my Dad and I was seeking something to keep him entertained.
"We could watch a movie" I suggested.
"I doubt you'll find something we both would like," he shrugged.
My Dad was a man of solitude, he like watching Phillies games –alone and listening to music from his iPod with headphones on, again alone.
Stumbling across the Cable Channels I found "That Thing You Do!" — the 1996 Tom Hanks film that I had seen before.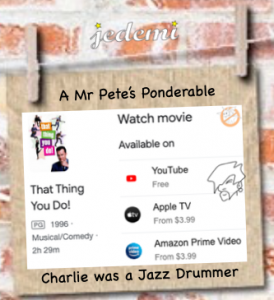 It was light-weight entertainment with no violence and very little sex.
"This might work," I thought. "Now, how do I sell the idea to him?"
"I found a Tom Hanks film."
"I like Tom Hanks," his eyes lit up.
"There's a cute actress in it," I whispered in his ear.
"Even better," he chuckled.
Seeming to have hooked him, I continued.
"It's about a Pop group during the 60s and Tom Hanks becomes their manager."
His eyes dimmed and I knew that I was losing him. In quiet desperation I decided to give away some of the plot:
"Okay, so the week of a Local Talent Show, their drummer happens to break his arm. The group tracks down a replacement who works in the local appliance store."
I failed to spark any interest in him, but I wasn't ready to give up.
"Hang on… So at the Talent Show, they started to play a mopey love ballad the lead singer had written, but the substitute drummer —a JAZZ drummer— switched the beat, turning the song into a danceable reward for the bored teenagers."
Ha! Got him!
As soon as I said "JAZZ," I captured my Dad's interest again.
"Okay," he said. "I'm willing to give it a look."
As he relaxed in his chair, I turned up the volume and thought:
"A Jazz Drummer saves the day again!"
To be continued…
---
---
Thanks for taking the time to read (and ponder) what I've written here. Please share and, as always, we encourage you to #SCMF!
—30—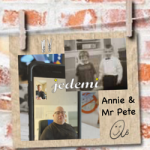 About Mr Pete
A music aficionado, Mr. Pete's mind and ears have no horizons. He has the uncanny ability to suss out the right song for the right time — a skill that is truly amazing. The Gang here at Jedemi enjoys his contributions.
---