Did you know one of Charlie Watts jazz hero's was Charlie Parker? Also, that he wrote and illustrated a children's book, "Ode to a Highflying Bird," as a tribute to Parker? A gentleman never forgets his roots. Read on for more about the talented Mr Watts.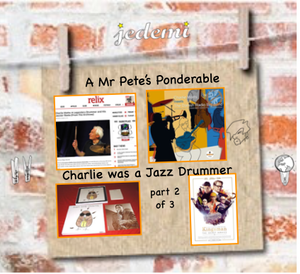 ---
A recent online re-post of a piece from Relix's Archives referred to the Late Rolling Stones Drummer Charlie Watts as the "Cary Grant of Rock n Roll."
I like to refer him to those of the main characters in the "Kingsman" movie series.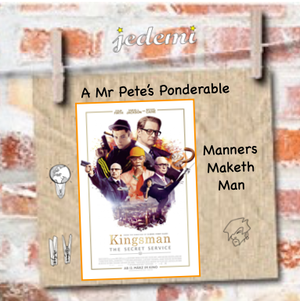 In those films the lead characters' experiences help them define the meaning of being a "Gentleman." Charlie Watt's journeyman life, from fanboy lover of jazz to student/performer of swing & be-bop music, built the foundation of him becoming that spark plug for an engine called "The Rolling Stones" running for almost 50 years.
The tagline for the "Kingsman" film is "Manners Maketh Man."
See for yourself here in this clip:
An online piece from the website "A Gentleman's World" dives deeper into this aura of being "a Gentleman."
The word "gentle" includes also being respectable, disciplined and nonchalant. Loyalty, reliability and solicitude are only a short outline of a wide range of moral courage…
A True Gentleman never forgets his roots and occasionally will pay honor to those sacred ghosts that haunt his soul.
---
Check out this video which was taken from the release: Charlie Watts – Meets The Danish Radio Big Band (2010).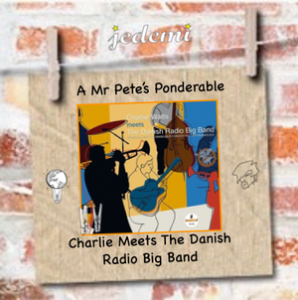 Bear with me, as this stuff I find fascinating…
The song listing and credits are as follows:
1 – Elvin Suite Part. 1
2 – Elvin Suite Part. 2
3 – (Satis) Faction
4 – I Should Care
5 – You Can't Always Get What You Want
6 – Paint It Black
7 – Molasses
Acoustic Bass – David Green
Alto Saxophone, Flute – Pernille Bévort
Alto Saxophone, Soprano Saxophone, Flute – Uffe Markussen
Artwork, Design – Marielle Costosèque
Artwork, Painting – Patrice Beauséjour
Baritone Saxophone, Bass Clarinet – Pelle Fridell
Conductor, Flugelhorn – Gerard Presencer
Drums – Charlie Watts
Electric Bass – Kasper Vadsholt
Organ, Piano – Steen Rasmussen
Percussion, Drums – Søren Frost
Saxophone, Woodwind – Nicolai Schultz
Tenor Saxophone, Clarinet – Lars Møller
Trombone – Annette Saxe, Jakob Munck Mortensen, Peter Jensen, Steen Nikolaj Hansen, Vincent Nilsson
Trumpet, Flugelhorn – Anders Gustafsson, Christer Gustafsson, Mads La Cour, Thomas Kjærgaard
Like the tracks? Head shaking and a smile here.
---
Charlie & Charlie
In 1991, Watts issued (through the Continuum Records label) a box set "From One Charlie…" as a tribute to Charlie Parker. This set includes the book 'Ode To A High Flying Bird' written, signed and drawn by Charlie Watts. Plus, there's a CD musical interpretation of the book and a picture of Charlie Parker playing his saxophone, all housed in a deluxe 12″ square picture box.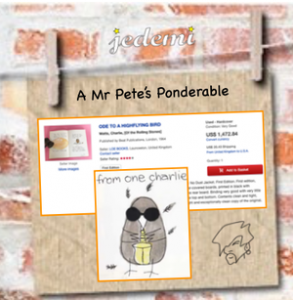 Here's a clip of The Charlie Watts Quintet performing music inspired by the book.
This set is currently out-of print. The Amazon listing has it as "Unavailable" and with the record label also out-of business, it has become highly collectable.
But fear not, the magic is not lost as the first set of the live performance is preserved on "A Tribute to Charlie Parker with Strings."  This CD is still available on Amazon, although with Watts death, at a considerable marked-up price.
As for those who lack funds to purchase these collectables, some kind souls have chosen to share their spiritual experience on YouTube. Check this out for one plus hours of joyful listening.
And with a little of what I call crate diggin' one can also find several of Charlie Watt's jazz recordings, like this.
Mr Pete's Wrap…
To me, like with a custom-made, tailored suit, Charlie wore his influences with pride —a pride full of love, respect, and an understanding that his mission in life was to share his skills as an Author/Illustrator/Musician with the world.
With sharing those aspects of his life, in a gentlemanly way, he has helped us bear witness to beauty, passion and glory of the Jazz World and those Souls involved in it.
To be continued…
---
---
Thanks for taking the time to read (and ponder) what I've written here. Please share and, as always, we encourage you to #SCMF!
—30—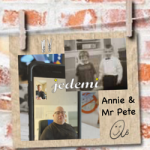 About Mr Pete
A music aficionado, Mr. Pete's mind and ears have no horizons. He has the uncanny ability to suss out the right song for the right time — a skill that is truly amazing. The Gang here at Jedemi enjoys his contributions.
---