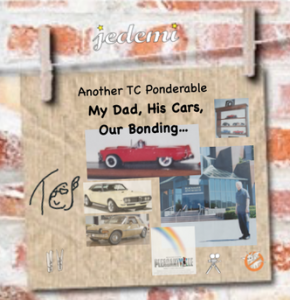 Here in my car, feel happiest of all… Yup! That's something that can be said about our Dad. In this ponderable, TC talks about CARs: CARS he owned, CARS he admired, CARS he handed down to his kids and more. Read on! – the editor
---
It comes as no shock that after my essay about my Mother on Mother's day, I am tackling Dad on Father's Day.
Now when I was younger, it was very hard to understand my Dad. Earlier in life, items I remembered were the amount of preparation to get ready for him to film us on Super 8 film running down the stairs on Christmas Morning. He was assigned to take the 6 kids to the Wildwood NJ Boardwalk to visit Hunt's Pier and ride classic rides such as Keystone Kops and such.
But a lot of my memories had to do with CARS!
CARS he owned, CARS he admired, CARS he handed down to his kids.
---
First sign was during the annual Wildwood Boardwalk trip, his big spend was a raffle ticket for the latest Buick land yacht the local Catholic Church was giving away that Summer.
Also I was present when he purchased MANY a car. The most infamous was a 1976 AMC Pacer [THAT Pacer!?! the Edsel of my generation]. It was supposed to be the follow up to the success of the earlier AMC Gremlin. It looked so cool when we bought it. Very rounded and modern. Until the electrics of the car kicked in. I was with Dad when such Pacer shut off in the middle of the Garden State Parkway in high traffic, as he struggled to get the car to the side of the highway. EXIT AMC Pacer. I am sure Wayne and Garth never had that issue with theirs in Wayne's World.
---
He owned a sweet 1968 Pontiac Firebird…
True! That I felt I may have forced the issue to sell it after I threw up in the back seat after being discharged from Overlook Hospital after tonsil surgery at age 4. It was too sporty of a car for a family man.
[Note: Our Dad gave up his Alfa Romeo Spyder (a la "The Graduate") for the Firebird as it could seat more of "the family."]
---
Dad had a brief relationship with a second Dodge Omni Coupe with a stick shift. Supporting Lee Iacooca after the Chrysler bankruptcy in the late 70's maybe sounded good on paper, until the poor man had to operate a stick shift in bumper-to-bumper traffic taking my brother Pete back to college in Yonkers, NY.
Hills and stops did not agree with [his knees] the stick shift. Oh the pain!
---
Ahead of the Curve with his Vans…
The vans he purchased, in lieu of a station wagon, were a neat choice. Except when the Chevy van left a white cloud behind us all the way to Stone Harbor. The only blessing: a trip to the Chevy dealership in Ocean City led to a visit to a whole new Boardwalk we never visited.
Later in life, he continued to alternate between the latest mini-van and a sensible sedan. When my mother stopped driving, a car shuffle led to getting a
Ford Freestar for my big move to Las Vegas. He even paid for the car to be transported to Nevada. It served me well getting between jobs and grocery shopping in the desert heat.
---
My father was always around during car transactions. Except my last one. Right before he passed in 2017, I traded in the Freestar for a Ford C-Max Energi. A Hybrid! I remember the call I had with him after the transaction closed. I was waiting for scrutiny.
I was waiting for scrutiny. Instead, I got his enthusiastic 'Well!!'
Says it all… his enthusiastic "Well!!" did. I believe the discussion took about 20 years off his age. Too bad I never had the chance to have him drive in it. Sadly, he was not able to download the link to the digital brochure Ford put out on the product (tech issues).
[Note: The siblings have a name for low-milage, used vehicles they purchase: "a Jerry Special".]
---
Dad was THE Car guy…
Indeed! He was gleeful when we attended the Atlantic City Classic Car Show yearly, not to buy, (other than is annual copy of Hemmings Motor News– Produced in Bennington, Vermont his hometown) but to see how many 1955 Ford Thunderbirds were in the show. Many a photo next to this model of car, especially if it was the color of his 1955, RED.
---
Later in life, Dad did try to bond with me in my interests. Mostly old movies (and Jack Benny; cue the Jack Benny Christmas Episode. Essential classic!). To my surprise, during a late 1990's movie matinee stop at the Tilton Theater, I talked Dad into seeing a special film since he had no interest in seeing what Mom wanted to see, Babe, Big in the City. So while my brother James took Mom to Babe, I took Dad to Pleasantville. (No not the NJ Town).
Pleasantville was a film that put Tobey Maguire and Reese Witherspoon on the map as two 1990's siblings trapped in a 1950's sitcom thanks to a magical Don Knotts. The more they remained in the 1950's, people and things turned from black and white to color. Including a 1955 Ford Thunderbird.
"Just look at that Thunderbird! It's my color!"
Dad was in glee: "Just look at that Thunderbird! It's my color!"
---
That's a Wrap!
Thanks for riding along as I share my Dad memories and, if you get a chance to screen Pleasantville, you won't be disappointed. It still gives me goosebumps. Even more so, like the films E.T., The Muppet Movie, The Dark Crystal, I got to sit down and enjoy with Dad.
Thanks for reading (and pondering with me)! -TC
---
---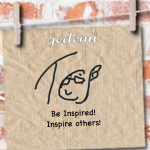 —30—