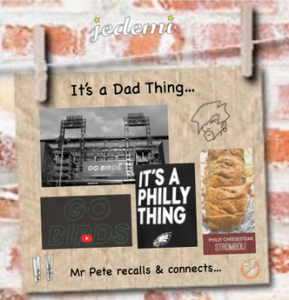 Mr Pete was wowed by the #FlyEaglesFly videos that appeared before the Eagles-Niners game. They got him thinking about his Dad, the way things work, and how time keeps on slippin' into the future. Enjoy! —editor
---
In my youth I never fully understood what my Dad did for a living. I was aware that He had served in WW2 and after the War he was able to attend college on the G.I. bill. He studied Engineering and throughout his life he had a fascination with the "way things worked." In fact one of the few books he owned and enjoyed reading was called "The Way Things Work." We owned two copies (Vol 1 and 2) along with other books by that author.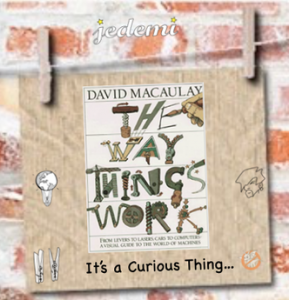 What Mr. G Did…
To my knowledge, my Dad worked in systems management for a large company. Using early versions of mainframe computers (a reference customer for IBM he was), he developed / honed logistics skills.
That means he was able to tell his Boss where inventory was located (as in, what part of the country). He knew whether it was in transit or sitting in a warehouse. Also, how much was on hand and how much was on order.
Those Silly Punch Cards…
In his day, this kind of data / information was processed on large wheels of magnetic tape and on little cards that had holes punched in them (a series of 0s and 1s known as Binary). He embraced the simple logic process of the machines into his life. Not surprising, his favorite TV character was Mr Spock from Star Trek.
On weekends when he was off (though Information Technology AKA IT is never quite "off"), he sometimes got calls from his office. They would tell him about some type of problem involving the computers — stating matter-of-factly that "the computer made mistakes."
Agitated, he kept his cool and would tell them:
"Computers don't make mistakes, people do."
[Note: Annie also recalls Dad saying that computers weren't giving him headaches, people were (as he pounded his Excedrin from a tiny tin.]
---
Segue to Sunday — Dad's Eagles Playing in NFC Championship Game…
Drones may seem like another form of radio-controlled car or plane, but they certainly are NOT toys. Those cameras attached, drones can become our "eyes in the sky." Whether controlling traffic or providing visual entertainment, drones can do what they do after a human programs them. Using today's version of 1s and 0s, the instructions must be simple and accurate.
[Drones' existence, their flights relies on a computer language.]
When my Dad retired to South Jersey he became a sports fan, of all teams Philadelphia, though the Phillies and the Eagles were his favorites. He lived thorough many a losing season. That being said, this year I imagine that he is looking down from Heaven, giving the City of Philadelphia his blessing.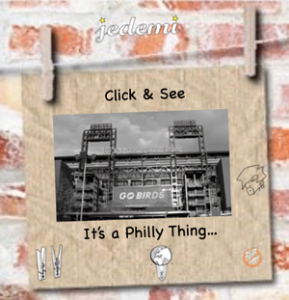 Upon my first witnessing of this video I thought of him big time. The POV sparked my imagination. In my mind I visualized that my Dad came down to visit. As a guardian Angel he soared and bless all the fans and players. I sensed he was Happy and Proud
---
What can be better than one Drone?
How about a Flock of Drones? Working with shapes and lights a presentation with a Flock of Drones is very much like a fireworks display. Few people are aware that such presentations take a lot of time and require a diligent attention to detail.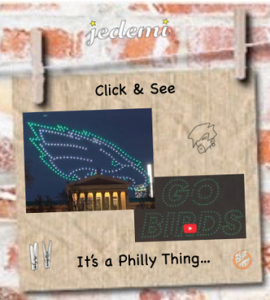 >> Think about it… Each firework/drone must be individually programmed. One error, no matter how small can doom a performance.
So as I watched this video, I imagined my Dad whispering in my ear —explaining they way it worked (AKA how it was done). Yup! He'd proudly proclaim that the "miracle" of math and science within computer(s) are what provide us with a magical performance that reaches out and touch our souls.
Truly wowful!! Which brings me to this thought…something I gotta know…
Hey Dad are there cheesesteaks strombolis in heaven?
Thanks for scrolling! —Mr Pete
---
And Now for the Bonus Clips (and Clicks)…
To start… Yum! You can learn about Philly cheesesteaks strombolis here.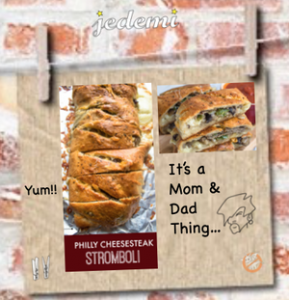 And the Philly Thing? Well, here's something that'll wow you!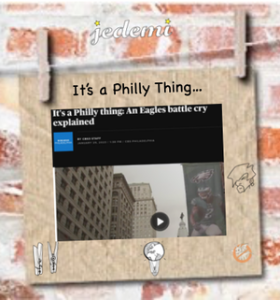 ---
And it wouldn't be a Mr Pete post without music. So here's Neville Brothers version of "Fly Like An Eagle":
Still More…
If you've got some time, you might want to check out this "Talks at Google" featuring Mr David "The Way Things Work" Macaulay.
—30—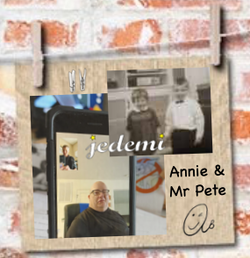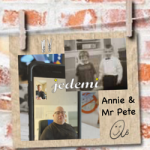 About Mr Pete
A music aficionado, Mr. Pete's mind and ears have no horizons. He has the uncanny ability to suss out the right song for the right time — a skill that is truly amazing. The Gang here at Jedemi enjoys his contributions.