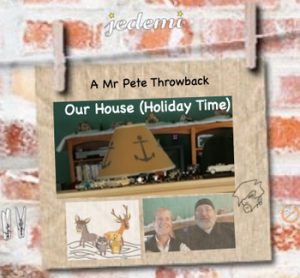 ---
Holiday Time @ the Gladue House was a unique experience as my parents added personal touches that reflect their past and engaged their children.
My Dad had a collection of small buildings that represented his hometown of Bennington, Vermont**. There was a bank and a bar, a schoolhouse and a general store. We used abandon books to make hills for the sheets of white cotton packing material (snow/ice). My matchbox cars were spaced lightly on top of the snow.
[** Home of the Trigger Mug]
In the later years my brother would make it a point to flip over one of the cars each time we visited. When Dad finally noticed he would simply quip, "That guy must have been driving too fast."
My Mother had what I'd describe as a "United Nations" attitude towards the season. Having been adopted she was never fully aware of her heritage background (this was a time before DNA Ancestry Blood Tests). So that being the case, she was open to the traditions of many different cultures.
Early in December, she'd have us put our shoes outside our bedroom doors on evening and the next morning, we'd find them filled with gold foil wrapped chocolate coins.
---
[Editor's note: Annie remarked that St. Nicholas Day was the occasion and also, that Dad's take on the December 6 St. Nicholas Day, was to give chocolate chip cookies he baked himself to his staff at City Hall.]
---
Back to my remembrance of Christmas past…
We did the stocking thing and that was under Dad's purview. He also did the tree and the lights. We all waited with anticipation while the engineer that he was, meticulously put the lights on the tree and tested them. Once he nodded his "okay" we went to town decorating with boxes and boxes of ornaments Mom collected over the years.
Speaking of Mom's collections, I fondly remember one piece— a hand-crafted banner (perhaps purchased at a church event) that told a story: "The Night the Animals Talked."
---
[Editor's note: Annie recalls her Mom reading that story out loud to the six of us kids.]
---
… What will they see? They will see an animal Christmas. They will see the Spirit of Christmas, God's love, flowing across the earth, filling the sky with sounds and sights that humans are usually too busy and sometimes too unbelieving too hear and see. The sounds and sights will call the animals together where they will talk…
Seems like a long forgotten story that needs to be gifted back to the world, so follow this link to read on.
Happy Holidays!
Thanks for scrolling! —Mr Pete & Annie
P.S. Oh… and here's a link to one of Mom's holiday pieces.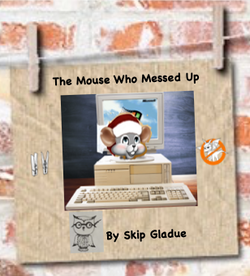 Enjoy!
—30—
---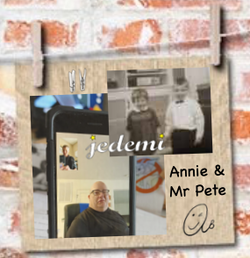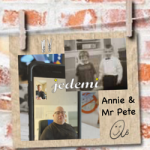 About Mr Pete
A music aficionado, Mr. Pete's mind and ears have no horizons. He has the uncanny ability to suss out the right song for the right time — a skill that is truly amazing. The Gang here at Jedemi enjoys his contributions.