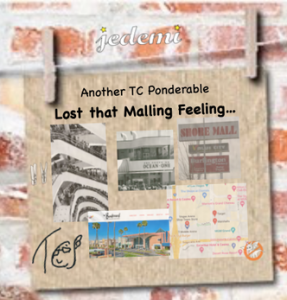 This time, TC ponders the evolution of the shopping mall — brick and mortar as well as "the feeling." Read along as he describes his experiences and thoughts about the next generation of shopping experiences. – the editor
[Updated 12 June. Scroll down for Westfield SF News]
---
"If you build it, they will come…"
It sounds like an excuse to build a baseball field in the corn fields of Iowa, right? Well, it also sounds like just plain "Corn" in my opinion. But in the world of retail, the USA is now experiencing the "over-mallification." Too much of a good thing, perhaps is a reason that many shopping malls in the country are now shutting down. But there are other factors in the mix, including:
Mergers
Amazon.com
Theft
Social media
Economics
When I grew up during my time in South New Jersey, we could not wait until they opened up the Hamilton Mall. Up to that point, in our area, the existing mall was Shore Mall. A mini mall is a better way to describe it since it featured only a small JCPenney, Sears-town, Steinbach, a Pantry Pride grocery store.
Furthermore, near my parent's retirement home in Stone Harbor, the options were… catalog desks.
?? you are thinking…
Once upon a time, long before the Internet changed shopping, people browsed catalogs in show rooms (or at home) and ordered products via retail locations. For them, it was appliances via the Sears catalog desk, and JCPenney's catalog desk in Thrift Drug.
Technically, Stone Harbor was "The Shore" which catered to seasonal visitors from Philly and North Jersey, so I get why the shopping was limited to just Jamesway (no Wal-Mart), Ames, and a tiny Kmart. But still, there were rainy days when we were at "The Shore" and shopping locally at the "Five and Dime" and the local hardware was it. But I digress…
When Hamilton Mall came along, it featured the area's first Bamberger's  and a new, two-level Sears AND JCPenney! Plus, 120 other fine stores (the ones we used to drive to Deptford and Cherry Hill to enjoy).
Being raised in North Jersey, we were spoiled with many malls, and many great downtowns to shop in. The move to be near my parents after their retirement, was a major step back (in time).
---
AC Does the Mall…
Atlantic City (AC) was taking off as an East Coast gambling destination at that time. Busloads of visitors dropped in, spent, won or lost, and left. AC tried to encourage extended stay (and spend) by mall-ifying an old pier. They rebuilt it into the shape of a ship, called it Ocean One, filled it full of mall stores. Nice idea. The novelty wore off before long, and shoppers eventually STOPPED coming.
Fast forward… to 2023.
AC tried to revitalize Ocean One to an upscale mall like the Forum Shops at Caesars in Las Vegas. However, the planners grossly underestimated the draw of the Outlet Shops that opened a block away. Deals and more bang for the buck. The upscale mall never found its sea legs and is basically empty now.
The Shore Mall went through a bunch of changes: Steinbach became a Value City. JCPenney became Clover, then Burlington. Sears became a Boscov's. And then the Shore Mall concept was scrapped altogether. Developers changed the name to Harbor Square, and Boscov's became the lone surviving traditional department store there.
Hamilton Mall is now the next victim. What was a modern citadel of retail in the 90's, became a shell of it's former self. They lost Sears (okay, everyone has), JCPenney closed (a victim of over-expansion and online retailing), with Macy's, the owner of Bamberger's, the lone department store left.
Strip malls were the new direction retail was going. However, they were not immune to the fallout (note reasons above). In the retail corridor between all those malls, they lost many big box companies, with Bed, Bath and Beyond the latest victim. Burlington upgraded to a former Babies R Us, Big Lots in a former Circuit City. The local Regal Cinema closed.
This was in an area that wasn't super populated, but there was enough income to sustain the business. Once the economy soured, especially after Covid, the song had changed, as the malls went silent.
---
So Where Did the People Go?
Consumers gotta consume, right? But habits changed. Patterns changed. Folks became accustomed to ordering for pick up or getting free shipping (two-day!!).
So I look at Las Vegas, where on "The Strip" they still have the best "sales per square foot" shopping centers merely a stone's throw away from where the tourists are at (supporting the thousands of hotel rooms built, for the thousands and thousands of visitors coming to Las Vegas). Even discounters got into the act as I noticed a "tiny" Target, Marshalls, Ross Dress For Less nearby and the T-Mobile Arena, not to mention the multitude of food and eating establishments all around.
---
The Malls of the Past, Re-invented…
Case in point, The Boulevard Mall. It is located closest to the strip and was the number one in Nevada before Fashion Show opened. Following the typical "mall lifecycle" it eventually expanded and then, during the last 10 years, lost all of its anchor stores (another one that featured a Sears). Fortunately, the developers looked out of the box to re-vitalize the property. Observing the neighborhood, it re-made itself to a social center, adding an aquarium, Asian grocery store, new dining, a Hispanic marketplace, a movie theater, all while repurposing a former Macy's as a call center and future medical offices. A Goodwill in a former Dillards! Another reason to meet at The Boulevard.
The Boulevard is an exception and not the norm since it is more difficult to repurpose when the area has no "purpose." Cities, suburbs, and rural are not exempt from retail correction. Post-Covid, news stories emphasize how urban shopping has been taking a hit.
---
City Center Shopping — No More…
I used to go to downtown Philly and San Francisco to shop at what was referred to as flagship stores. These were big department stores (multi-floors) which also had in-store restaurants. It saddens me to think of what's become of these "institutions." With theft and loss of the urban employees (working from home), these venues in Philly and San Francisco are closing up in droves:
Philly's Tiny Target
Nordstrom announced two SF locations on Market Street closing
More can be found in stories here and here. The locations are not profitable as theft is not covered by the sales. So, I don't think we've gotten to the point that Dollar General will do an "every other block" expansion into Philly and San Francisco like they took over in rural and suburban America. Dollar Tree in Nordstrom Market Street? No. It is tough when even the off-price stores like TJ Maxx, Marshalls, Burlington and Nordstrom Rack bail on downtown.
---
That's a Wrap or Maybe a To Be Continued…
I can recall fondly the days of long ago when my sister (editor) took me to the Pub at Nordstrom in SF for an awesome meal. Also, when I went to the Corinthian room at Strawbridge and Clothier in Philly for a civilized yet affordable meal with the "ladies who lunch" when they shopped Clover Days [smile on face].
Heck, thinking further back to the stories I've been told, the Woolworth Lunch counter was a palace compared to the lack of Woolworth food service in the two locations near where I grew up.
My editor has often said, in retail, the only constant is change. So maybe, just maybe, it is time to ponder "the feeling" of retail experiences past, accept that "the how" will be different. Then, if we seek, we may find some surprising new ways of shopping that stir up (perhaps elevate) those feelings.
Yeah… so maybe, it is Seek and you will Find, not Build and you will Come.
And as Stan Lee would often remark, 'nuff said. Ball's in your court fine reader. Any memories of retail past you'd like to share?
Thanks for reading (and pondering with me)! -TC
---
Bonus Clips…
Update 12 June 23:


Not to bum you out, but this guy captured the past pretty well in his mall video.
---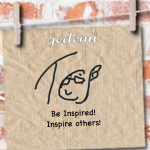 —30—