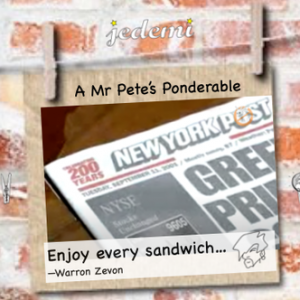 There is a certain adage that appears around this time of year. It creeps upon us in Mass Media: living on the Internet, haunting our emails and FaceBook feeds.
Its roots run deep, breathing a sense of urgency into our lungs.
That Burning Fire rages into our Thoughts and Dreams as we try to sleep.
It is that sense of self-awareness and our acceptance of the evidently of… Death.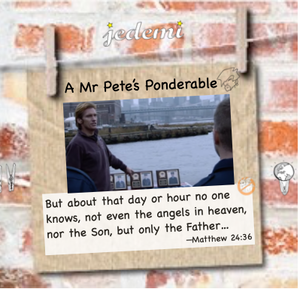 But about that day or hour no one knows, not even the angels in heaven, nor the Son, but only the Father.
The truth of the matter is that no one knows their manner of death. Facebook suggests that we need to hold our children tighter and to live each day as it were our last.
In his last interview with David Letterman, Warren Zevon (fully aware that he was dying) gifted us with these words of wisdom: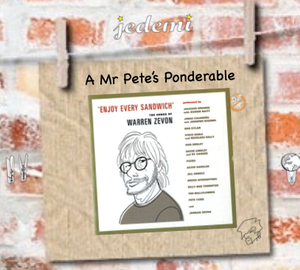 Enjoy every sandwich.
---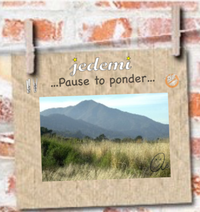 Editor's note: Sometimes you need to step back, take a deep breath, exhale and then dive back in. This is just a visual reminder that it is okay to take a moment. —The Gang and Annie
---
"Rescue Me" was a FX Network TV show that ran over five seasons. It starred Denis Leary and his motley crew of NYC Fireman, performing a slow waltz of death.
The pilot opens with Tommy (Leary), berating the group of recruits, reminding them that FDNY is not looking for Heroes. The FDNY's Heroes were dead.
They had died on 9/11.
Those Firemen who died on 9/11 were not seeking to be "Heroes."
They were just doing their jobs.
They were unaware what fate had in store for them that day.
A later season of "Rescue Me" was delayed due to a writer's strike. In the interim, producers rushed mini-episodes on the Internet to satisfy fans. In one in particular, we are witnesses to a typical morning day at the firehouse.
The banter, the jokes, all seemed usual (boring perhaps).
It is only when Jimmy, Tommy's cousin appears on screen, that we know this day is different. Why?  Because those who followed the show from the beginning know that Jimmy died in 9/11.
Alarms go off, the men rush to their trucks.
Just another day on the job.
Then the final shot focuses on a newspaper left on the kitchen table.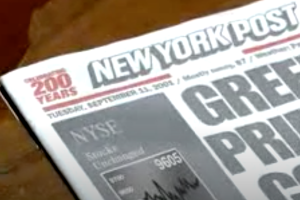 The date on the paper, September 11, 2001.
---
Lots to ponder there, so I'll leave you with this:
Maybe hold your kids a little tighter.
Take time to say hello to your neighbors.
Stop and smell the Roses,
Dance like no one is watching.
Laugh at Fate and whatever it brings us.
And yes, Enjoy Every Sandwich!
—Mr Pete
---
Thanks for taking the time to read (and ponder) what I've expressed here. Please share and, as always, we encourage you to #SCMF and #EnjoyEverySandwich!
Note: Keep scrolling for more visuals and ponderables.
—30—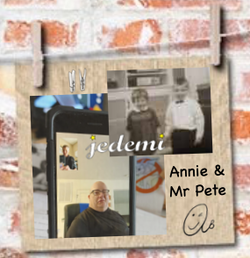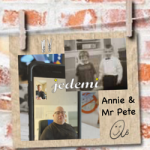 About Mr Pete
A music aficionado, Mr. Pete's mind and ears have no horizons. He has the uncanny ability to suss out the right song for the right time — a skill that is truly amazing. The Gang here at Jedemi enjoys his contributions.
---
Warren Zevon on Letterman
Viewable here, here, and here.
Song cover from Mr Pete: My Ride is Here
The "Rescue Me" theme song (pick suggested by Annie)
Now that's, for sure, a wrap!
—30—