It may start as clip-zipshare-nextup. But then, something happens and that signpost you zipped by beckons you to circle back and take a closer look (or in this case, listen). And the more often you learn to do it, the more light there will be… Wow! Powerful! Inspiring! An invitation… And without further ado, welcome to another edition of #WowMeWednesday.
…If you're going to try, go all the way.
There is no other feeling like that.
You will be alone with the gods, and the nights will flame with fire.
DO IT. DO IT. DO IT. All the way
You will ride life straight to perfect laughter.
It's the only good fight there is…
The Sign Post that Speaks…
Perhaps in the back of your mind, you recall that devoted English teacher who kept saying that poems were meant to be read aloud. And maybe, you dismissively thought, "Yeah right! Is that on the test?"
Indeed, sometimes the best teachings happen when the mind isn't ready to receive.
But what about now?
18-months of pandemic got your attention?
Perhaps you visually streamed yourself out — Netflix/Disney+/Hulu/PlutoTV, etc.
Perhaps you even Podcast streamed yourself out and maybe playlisted yourself out.
You kept up with a flow of content, but did anything stick?
Once upon a time, refrigerator magnets and pushpins were used to hold up notable quotables that stimulated the mind (At Jedemi, we call them ponderables).
Well, this WowMe is about motivational ponderables that uplift and have the potential to energize activity on the personal level— engaging and stimulating movement that we can control no matter what the universe has in store (pandemic, fires, or otherwise).
Mr Pete came across this UYM Facebook post while up early thanks to his relentless / restless puppy.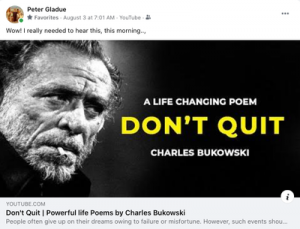 His first instinct, was to zipshare-nextup. Then he circled back and made some more discoveries:
1) The UYM folks have a channel
2) A favorite Kipling poem "IF" can be found there — a fantastic read by Sir Michael Caine
3) The impact-fulness of reading poems out loud
Here is an example:
Read by Tom O' Bedlam, Charles Bukowski's "The Laughing Heart, Go All The Way ."
---
And another**
**Sorry about the annoying ads.
---
Mr Pete says: Sign-up. Bookmark. Make it a regular part of daily living — weekly even.
It's been said "music is the doctor," but the message here is the cousin of music, poetry with powerful words combined with a rhythmic beat of its own, can be healing and motivating.
Consider this "WowMe" to be sort of a serving suggestion with an urging nudge to go forth and find your own sources of inspiration. Build on it!
…and the more often you learn to do it,
the more light there will be…
Thanks for your time and The Gang as well as Mr Pete encourage you to share.
—30—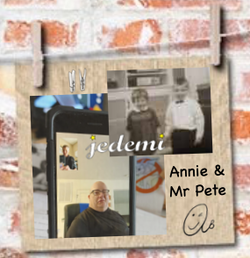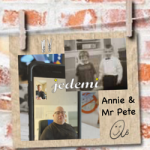 About Mr Pete
A music aficionado, Mr. Pete's mind and ears have no horizons. He has the uncanny ability to suss out the right song for the right time — a skill that is truly amazing. The Gang here at Jedemi enjoys his contributions.
---