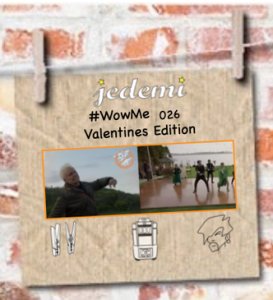 Mr Pete offers us a joyful ponderable this Valentine's Day / week. His reference video transcends the TV series where it appeared. Please View. Read (his commentary). Enjoy. Repeat. And Share too!
—editor
---
Imagine that moment of complete satisfaction, when one can reflect on one's life and have no regrets and where there is no sadness lurking in the shadows.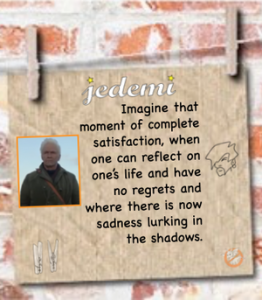 Traces of living a graceful life that warms the inner shell of a tired and weary old soul.
Yes, imagine that moment of Zen, when one's sense of self-awareness smiles and winks at a cruel and indifferent world.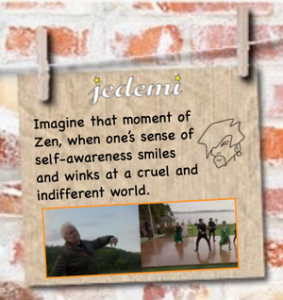 Within the Romantic Warrior, this is what the Soul desires.
---
The following five-minute video, from the TV series "The Affair", uses a split screen to reflect the passage of time. In parallel, both scenes express a common joy and complete satisfaction.
---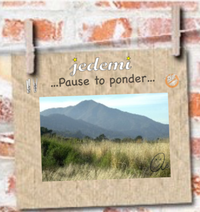 ---
The lyrics of this WaterBoys song "wowed me" too!
I pictured a rainbow
You held it in your hands
I had flashes
But you saw the plan
I wandered out in the world for years
While you just stayed in your room
I saw the crescent
You saw the whole of the moon…
Note: Scroll down for full lyrics.
---
My Closing Thoughts:
The Music. The Words. The Movements in Dance.
That sense of unity and the smiles on everyone's faces, leaves us with a deep emotional scar. But not the way one normally thinks of scar as this one really is more of a badge of courage.
This scar is a symbol of survival of the psychic wars.
This scar brings us a promise of a better world for future generations.
This scar is one that breathes life among the madness — giving us that single, sacred commandment.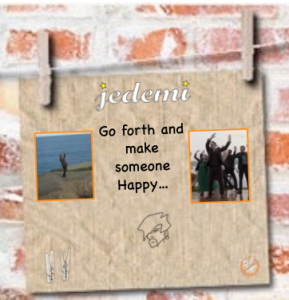 Make someone Happy, just one person Happy!
To me, this is where Desire Dances across the Edge —fulfilling Valentine's Day and beyond!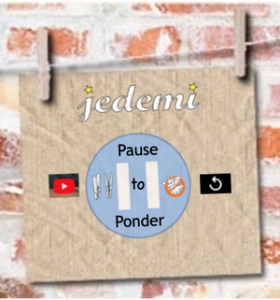 Thanks for reading/listening/viewing! #SCMF —Mr Pete
—30—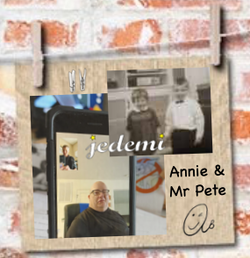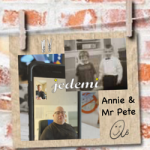 About Mr Pete
A music aficionado, Mr. Pete's mind and ears have no horizons. He has the uncanny ability to suss out the right song for the right time — a skill that is truly amazing. The Gang here at Jedemi enjoys his contributions.
Bonus Track:
For your enjoyment, the original video. It's a great song!
---
Full Lyrics as Promised:
I pictured a rainbow
You held it in your hands
I had flashes
But you saw the plan
I wandered out in the world for years
While you just stayed in your room
I saw the crescent
You saw the whole of the moon
The whole of the moon
Hmm, you were there in the turnstiles, with the wind at your heels
You stretched for the stars and you know how it feels to reach too high
Too far
Too soon
You saw the whole of the moon
I was grounded
While you filled the skies
I was dumbfounded by truth
You cut through lies
I saw the rain dirty valley
You saw Brigadoon
I saw the crescent
You saw the whole of the moon
I spoke about wings
You just flew
I wondered, I guessed and I tried
You just knew
I sighed
But you swooned, I saw the crescent
You saw the whole of the moon
The whole of the moon
with a torch in your pocket and the wind at your heels
You climbed on the ladder and you know how it feels to get too high
Too far
Too soon
You saw the whole of the moon
The whole of the moon, hey yeah!
Unicorns and cannonballs, palaces and piers
Trumpets, towers and tenements
Wide oceans full of tears
Flags, rags ferryboats
Scimitars and scarves
Every precious dream and vision
Underneath the stars, yes, you climbed on the ladder
With the wind in your sails
You came like a comet
Blazing your trail too high
Too far
Too soon
You saw the whole of the moon"
Source: LyricFind
Songwriters: Michael Scott
The Whole of the Moon lyrics © Warner Chappell Music, Inc
---