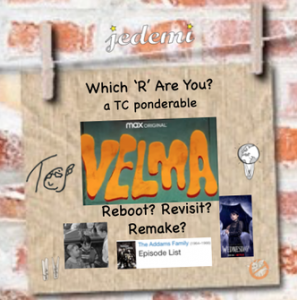 ---
Here we go again… Or so it seems as the entertainment industry again "recycles" a property. But is that R-word the best description of this trend? Ruh-roh! Inspired by the release of Velma, TC offers his thoughts… – the editor
---
I have seen many a "reboot" in my lifetime of many media properties, from excellent, (West Side Story) to the God Awful(Poltergeist). I wonder if the true reason we keep going back to the well is the dearth of good true original material. Or is the fact in this day and age, some classics do not age well.
Back in 1997, Lucasfilm and Fox re-released the original Star Wars Trilogy with beefed-up special effects and some updated edits. The opening weekend was at that time a record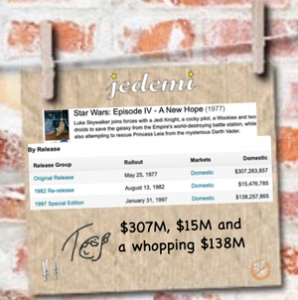 $138 million on box office sales for a 20-year old movie that had been on TV for over a decade is not shabby.
Nostalgia Perhaps?
My sense is that nostalgia was the reason it was such a hit as folks wanted to take their kids to experience it on the big screen. It is similar to what will happen in February when Paramount re-releases Titanic for the 25th anniversary with beefed up digital presentation.
Just Say No To…
Sorry but… It has to be said. The dreaded "colorization" fad in the 80's and 90's, under the guise that the new generation will not watch a black and white film ruined many a classic!. That being said, the proper digital restoration of these black and white classics did save these films, while making them updated enough for modern audiences to enjoy.
The existence of TCM/Turner Classic Movies has been an oasis for classic movie lovers as well as a bridge for younger viewers to experience and appreciate classic films (even with the library of "classics" creeping up to the current 21st century).
And Then There's Digital…
The digital projection systems in theaters today have vastly improved the viability of re-releasing these classics on the big screen without striking very expensive prints to ship and make up for exhibition.
So this also translates to television.
Through the miracle of digital broadcast, and the streaming networks, many classic shows have re-emerged as economical programming on free streaming TV, such as Pluto TV and Roku.
---
>> Notable: More people have been watching the 1964 sitcom "The Addams Family" (https://www.imdb.com/title/tt0057729/episodes?season=1) now that Tim Burton's "Wednesday" is such a smash on Netflix. That revisit combines the character from the 1964 show with the excellent performance by Christina Ricci in the 1991 film adaptation, and even the recent 2019/2021 animated release voiced by Chloe Grace Moritz.
---
[Pause to Ponder]
So here comes a dilemma. What property is sacred ground?
I screened Velma, an animated take on the show "Scooby-Doo, Where Are You" from the creative mind of Mindy Kaling.
[VELMA is an adult animated comedy series telling the origin story of Velma Dinkley, the unsung and under-appreciated brains of the Scooby-Doo Mystery Inc. gang. This original and humorous spin unmasks the complex and colorful past of one of America's most beloved mystery solvers. ]
In her update, so far after two episodes, no dog is to be found, the cast is diverse, with Freddy the only caucasian in the future Mystery Inc crew. It has a wink-wink feeling through out the show, exploiting (perhaps overthought) its resource material.
I was never a fan of Scooby-Doo during its earlier run. The show was such a success for Hanna-Barbera it was re-hashed into several many series that it lost most of the creativity Hanna-Barbera had during the first years of operation.
These shows got a second look with Turner's Cartoon Network and Boomerang Network. This led to the highly creative Adult Swim (Robot Chicken) programming, that was inspired by the Hanna-Barbera product of the 60's and 70's.
I also stumbled across a Scooby-Doo reunion, done in the style of the Friends reunion, today on the CW streaming page.
---
Are We Getting OD'd on Inverse Nostalgia?
I believe in options. Update, but show the original resource material. Compare.
And breathe!
The first person who told me they loved "The Little Rascals", but was referring to the 1990's remake Universal released way back, I felt really old. Now with streaming, I can revisit the original we grew up on which reminded me what had inspired the re-make to begin with.
---
That's a Wrap!
Or maybe, that' a "Rant!" But, hey, I wanted to throw it out as something for you to ponder as well. In fact, here's a playlist I made just for this occasion:
Please take a look. Maybe you agree or have something to add to this topic.
By all means, weigh in.
Thanks for reading (and watching)! -TC
—30—