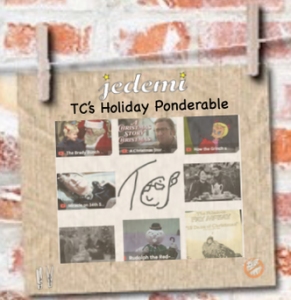 TC reflects on holiday screen gems which keep on giving though the years. Inspired by what he unveils, you may just find a gem (or two) of your own. Enjoy! —editor
---
Recently I was inspired to think about my favorite Christmas memories when it comes to on-screen media (television and films). So here goes…
The end of the year can be a melancholy pattern for those not as fortunate, or those who had gone though a rough year. It can also be tough when you experience a loss, like a death of a loved one, a tragedy or disaster that disrupted your life, or a total breakdown of health and/or stability.
Between many things I have experienced this year, I'll admit that melancholy is in full bloom. What that means is, in my case, I have been very sentimental and can cry on a dime during the silliest of TV shows, or a saccharin Holiday commercial. Want some examples?
The most surprising was the other day while streaming, I came across the Christmas episode of "The Brady Bunch" where the mother, Carol, lost her voice right before Christmas and could not sing for Christmas service. Young (and with curls) Cindy Brady asked the department store Santa, in lieu of gifts, to give Mommy her voice back so she can sing her solo on Christmas morning. This (sorry for the spoiler), did happen. There was a happy ending, Carol voice came back and she sang beautifully during the Christmas service.
[Editor's note: For some reason, the video link TC provided goes to an age restricted YouTube. The Brady Bunch – I Don't Want Toys requires a click to confirm you are over 14. Sorry…]
This video will give you context.
Dang… Am I becoming an old softy and less jaded in my old age, or what?
---
A Christmas Story… Story
The new sequel to the annual classic, A Christmas Story Christmas, had a similar effect on me, mostly for the nostalgia of reuniting with most of the cast from the 1983 original. Ralphie, at 50, may not be the most comforting thought, but hey, we've all been there.
I saw the original "A Christmas Story" in a (gasp!) movie theater!
In fact, I pride myself telling people that I saw the original "A Christmas Story" in a (gasp!) movie theater, NOT in the comfort of my home during the TBS 24-hour marathon. True story! Back during the original MGM/UA theatrical release in 1983, I worked at the hometown, Madison Triplex Theater and experienced this story on the big screen "early and often." In fact, I enjoyed it enough to bring my mother down to see it during its run.
A Christmas Story Christmas – Official Trailer (2022)
---
We lost Jules Bass (co-founder Rankin/Bass)…
[Editor's note: Two influential members of the Rankin/Bass team passed away in 2022 (Mr Jules Bass and Mr Paul Coker Jr).]
During the last few years, we lost the producers of the stop motion animated specials, the house of Rankin/Bass, or as my old roommate would say, "A Rankin Ass Production." We have an admiration for the Bumble, Hermie, Yukon Cornelius, Rudolph (who to me, sounded like he smoked three packs of Camels a day), and the duo of the Cold and Heat Miser in our household.
[Check out Rankin/Bass Christmas specials here.]
Rudolph the Red-Nosed Reindeer (1964) – Final Battle with the Abominable Snowman
---
Chuck Jones Does The Grinch of Dr. Seuss…
The affection I have for Cindy Lou Who, when I watch Chuck Jones adaptation of Dr Seuss' How the Grinch Stole Christmas, translates to a co- worker full of questions and whimsy.
How the Grinch stole Christmas (1966) Scene: The Grinch meet Cindy Lou Who
The Must-See for Me is…
Yes, modern classics like Elf, and crass like Bad Santa, take me down memory lane. I would have to restock the Kleenex if I watch the Story of the Magi during a TCM Christmas Marathon.
[Learn more here.]
---
Let the Fun Begin!
Having gotten the sentimentality out of my system, I rebound with a few good "Must Watch" clips every year.
One is a Song…
The Twelve Daze/Drinks of Christmas, by Fay McKay, a classic romp of drunken silliness, performed by many drag queens every year.
Drunk Lady Sings 12 Days of Christmas
---
One is a classic TV episode…
Way back in time, there was an episode of the Jack Benny Program, where Jack and Rochester go Christmas shopping in a Beverly Hills department store. Jack is waited on by the infamous voice over artist Mel Blanc (Yes, THAT Mel Blanc! The voice of Bugs Bunny, Tweety, Daffy Duck, Barney Rubble and more). Those who know, Mel was the only actor in his group that can totally "wreck" Jack Benny and get his out of character laughing. This was a treat I shared with my Dad at Christmas-time when it was re-broadcast on PBS every year.
The Jack Benny Program – Christmas Shopping (1960)
---
One on film…
The big one however, is a short two-minute segment from the original Miracle on 34th Street, when the managers of the toy department arrange to get the wife of Mr. Shellhammer blitzed with triple-strength martinis.
Talk about LOL… This made me "pee my pants" with laughter when I was 10 years old, and now at 55, has the same effect.
Miracle on 34th Street – Simply Charming!
---
The Christmas Wrap…
See what I did here? Cathartic approach to the holiday. Hope you enjoyed the journey I shared with you AND please ponder this:
Do you have a favorite that takes you to a happy, or happier place?
If so, please to share!
Thanks for reading (and watching)! -TC
—30—
---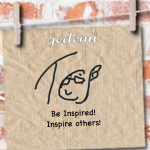 Bonus – The Editor Chimes in…
Robot Chicken Holiday video – Drummer Boy…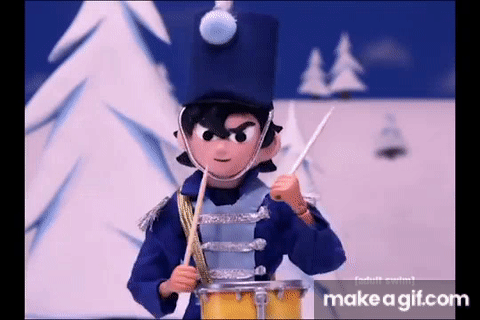 Check it out in context here…
Happy Holidays!!
---