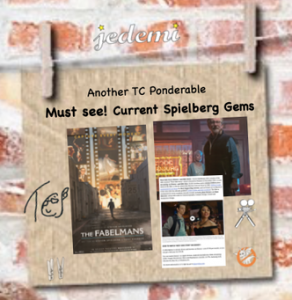 TC ponders a "lost" gem — Steven Speilberg's delightful "Fabelmans." Loosely based on his early life, TC said this lush little film, very detailed and mature, is riddled with spectacular performances… Read on! – the editor
---
The career of film director Steven Spielberg has been diverse as it has been long. This man has been directing films for almost my entire life, and then some, if you count the productions he made with his own camera (family and friends) back in the 1960's.
I grew up with:
Close Encounters of the Third Kind
Raiders of the Lost Ark
E.T.
The Color Purple
To name just a few…
[editor's note: "Jaws" (1975)!! Just when we thought it was safe to get back into the water at the Jersey Shore…]
He made films that were meant to be seen on the big screen, most with many bells and let's just say… "Spielbergian" tricks.
---
Grown-Up Films & His Troupe…
In the 2000's, his projects got more diverse, a mix of blockbusters and very grown-up films. He gained a muse in the "every-man" Tom Hanks, and most of his music scores have been composed by the seemingly ageless John Williams, along with various talent that has become part of his "Troupe."
I have to admit, I missed a lot of his work during the last two decades of this very century– That is, until 2021.
The idea that Spielberg's first musical would be his interpretation of "West Side Story" to me, came across as sacrilegious due to the truly iconic stature of the 1961 classic.
Winner of many Oscars, including for EGOT Rita Moreno, how could you improve a timeless event that is a musical that I used to say, 'make straight men weep'?
Yet improve he did. The Jets looked more diverse for the time of the musical, and the Sharks all avoided the make-up Max Factor Pancake sponge (to make them darker than they really were).
But the biggest improvement was all the leads were singing…
But the biggest improvement was all the leads were singing, I mean with their own voice. In the original, Natalie Wood singing, sounded like Audrey Hepburn singing, and Deborah Kerr singing… the talented Marni Nixon. Even with the signature songs re-interpreted, the raw pain of "A Boy Like That" rippled with pain and love. Slaps were felt, passions challenged, and seriously, everyone wept. There was a good reason Arianna DeBose won the Oscar in 2022, for supporting actress, the same part Rita Moreno won in 1962.
---
I wish Spielberg's version of "Story" was more financially successful. The timing of its release definitely hurt. It just so happened that 20th Century Fox Studios was purchased by The Walt Disney Company, and "Story" was one of the last green-lit picture to come out after the sale closed.
Pre-Covid, it was a no-brainer: Fox made a ton on a slow burn musicals (Think "The Greatest Showman").
In the height of COVID, despite a huge effort by Disney synergy, the movie never came close to recoup its budget. What film-goers ventured out that Christmas to see, was Spidey.
Just Stream It!
Good news, audiences had a chance to screen it at home via streaming, thanks to February scheduling on Disney+ and HBO MAX. I have seen it twice on the big screen, still in awe of the grandeur of an incredible film artist, not out of his prime.
This Time It IS Personal…
Spielberg's next project was more inwardly personal. Based on his own youth.
The Fabelmans was loosely based on his early life: his family dynamic, moving from tolerant and less tolerant towns, coming to grips with the divorce of his parents, all while as an aspiring filmmaker, he developed his love of the cinema.
This lush little film, very detailed and mature, is riddled with spectacular performances from Michelle Williams, Paul Dano, Seth Rogen, and Judd Hirch.
"The Fabelmans" takes you on a journey full of detail, whimsy and blunt reality. The tale of this family did not end with a resolution, other than the most amusing ending with a cameo I did not see coming. Film fans will enjoy.
So, when Universal released "The Fabelmans" last fall, it too did not find its audience. In a post-Covid world, the "older" (AKA more mature) adult would rather wait until it became available via streaming, to watch.
I admit that I fell into that category, and only stumbled across this film when I checked my Showtime streaming page on Paramount+. This made my SNL-less Saturday night very special, as I had been waiting a long time to see this after my sibling raved about it when it came out.
---
That's a Wrap!
In closing, you are probably wondering why I've dedicated a post to two Spielberg classics (IMHO) that were perhaps his most financially unsuccessful films to date.
Well, I got to thinking…
Is he becoming a victim to the anti-woke sentiment taking over the country? Maybe. Somehow, I sense that "Schindler's List" (1993) would fail at the box office in this climate. Sadly, no one wants to venture out to a movie theater to see something too close to home. Insecurity of self, and how we were taught and brought up.
To me, these Spielberg gems need to be required viewing. In the privacy of your home, it may be the only way you can face it.
Which brings me to this "Pondering challenge":
What is your favorite Spielberg Film?
Bonus points if you choose one that is not a franchise!
Thanks for reading (and pondering with me)! -TC
---
Bonus Clip…
---
Bet You Didn't Know…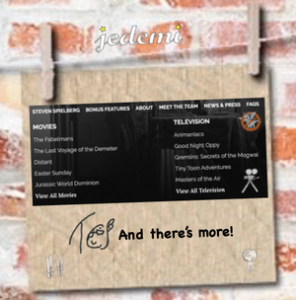 Lots of TV and movies in the Speilberg-sphere…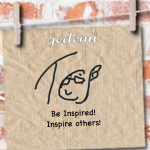 —30—