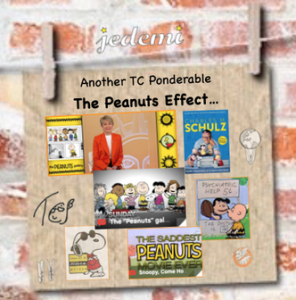 Can anyone imagine a world without, Charlie Brown, Lucy and Linus, and of course, Snoopy and Woodstock? TC ponders the personalities of "The Gallery" and wonders which one you relate to. Read on! – the editor
---
Of all the Charlie Browns in the world, you are "the Charlie Brownest"
"The Snoopy Dance"
"Peppermint Patty… and Marcie"
Can anyone in our generations imagine a world without, Charlie Brown, Lucy and Linus, and of course, Snoopy and Woodstock?
https://www.npr.org/2022/11/26/1138671852/charles-schulz-100-birthday-peanuts-legacy
In celebration of the centennial of the birth of Peanuts creator Charles Schulz, my friends at CBS Sunday Morning had a feature on "The Peanuts Effect" as this motley crew of kids, a very happy beagle and his bird friend are definitely a subject of conversation to unite people of all personalities (as they can relate to one or another of the cast of characters).
In my household, as my editor can concur, we had two volumes of Peanuts comic strips complied into a book for easy reading and review. Looking up the names of the books, the closest I got was Peanuts Treasury, and that was based on the coloring on the cover of the book. There was another that was updated, with Blue typeface, but not sure the title. So definitely out-of-print.
I recall them being "war torn" and definitely "well read". I feel that this was, as our mom would say, "tie us over" until the myriad of Peanuts Specials aired on our local CBS television station [editor's note: a leap from print to animated production].
Honestly, that "leap" was more like a face plant. For many years watching those specials, I always wondered what "GRAPHIC BLANDISHMENT" that actually was?
AAUGH!!!
When Peanuts went to the big screen, all I can remember is the songs such as "Snoopy, Come Home!" (1972) https://peanuts.fandom.com/wiki/Snoopy,_Come_Home and the song, "No Dogs Allowed."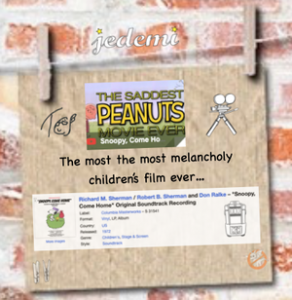 A screening of "Snoopy Come Home" as an adult brought me to the realization that the song score was written by the Sherman brothers, the team behind all those Disney films of the 60's (and killer ear worms like this.
It was also the most melancholy children's film ever, that till this day still makes me weep as an adult. No wonder it was a box office flop in the early 70's. I know I took that soundtrack album out on loan at the Madison Public Library many times in my youth. It may explain a lot about me and how I am now.
---
A few years back, before Disney purchased the entertainment properties of 20th Century Fox, the animation Studio Blue Sky, produced a CGI take on the Peanuts gang, The Peanuts Movie (2015) which had strong involvement with the Schulz estate to capture the basis of Charles' strips. A series of vignettes surrounding the arrival of The Little Red-Haired girl to the Peanuts gang. How Charlie Brown was crushing on her, and for good reason. She was very observant on all the good things Charlie Brown had done during the time she was around. Yes weeping as we speak.
---
Editor's side note: Snoopy dance memes are pure fun!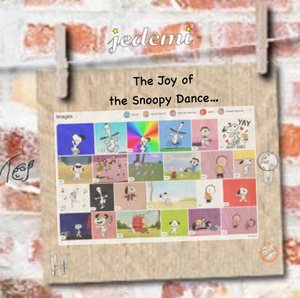 ---
But, wait! There's More to Ponder!
Nowadays, finding Peanuts can be tricky. The annual viewings of countless Peanuts adventures, are currently regulated to Apple TV+, who gained the rights a few years back. The transition was assisted by Apple letting PBS run the specials for a few years. Even the production house, Blue Sky, had been folded into the Disney empire, the bulk of the creatives started Illumination, based at Universal Studios, so new adventures may be off for a while.
That's a Wrap!
Today I ask my readers to ponder, which character do you relate to? Can you remember when you had a Snoopy Dance moment? Take a look at the strips and clips, especially Lee Cowan's CBS feature, and let me know if it takes you back to a much more humane world, where Charlie Brown Christmas tree was never a bad little tree, it just needed some love.
Thanks for reading (and pondering with me)! -TC
---
Saddest Ever…
---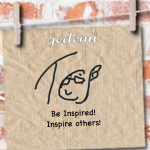 —30—