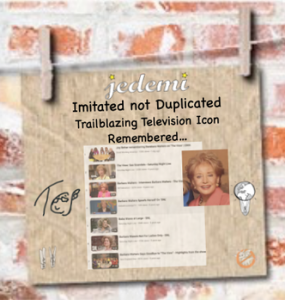 Over the holiday break, the news broke that Barbara Walters, the trailblazing news broadcaster, has died at 93. TC put together this piece which has some great clips worth viewing/pondering… —editor
---
The last weekend of 2022 notes the loss of an Icon and legend tin Television journalism. At 93, the loss of Barbara Walters is not surprising. She has been out of sight since her high-profile retirement in 2014. For all my life, I have always known of Barbara and her 40-plus year career at ABC News, in addition to her stints at CBS and NBC. The duration of time had lessened the failures of the past that haunted her, namely a poorly set up co-anchor position of the ABC Evening News with a hostile Harry Reasoner as her co-anchor.
She needed not to worry. 40 years of excellent journalism and stints on 2020, her many prime-time specials, and the creation of the only successful daytime program on television that was not a game show or a soap opera, The View, have cemented her legacy as an "Icon of television", and by the current CEO Robert Iger, a legacy of the Walt Disney Company.
Barbara had evolved over the years. The drive she had was her professionalism and preparedness for her job, a trait she shared with all those who followed her. Case in point, take a look at the conga-line of women journalists who showed to pay their respect to her the final day she was on The View 8 years ago.
---
That being said, there was one thing that took time for her to accept and appreciate: parody!
Barbara had big distaste in comediennes making fun of her speech and demeanor. Especially with the classic Gilda Radnor and her "Babwa WaWa." It was her own daughter that told her to "lighten up," that she started to accept the parody. So much so that when Cheri Oteri took over the Barbara impersonations in the late 90's on SNL, she was invited to be on The View, and was a part of a segment, Barbara interview Barbara, on the final episode.
I look at all the dedication and fine word that have been published on social media from colleagues and fans.
What a woman!
I curated my own playlist of clips so you can see for yourself what I'm talking about.
---
Notable Quotable:
She made her final appearance as a co-host of "The View" in 2014, but remained an executive producer of the show and continued to do some interviews and specials for ABC News.
"I do not want to appear on another program or climb another mountain. I want instead to sit on a sunny field and admire the very gifted women — and OK, some men too — who will be taking my place."
Indeed… what a woman!
---
Thanks for reading (and watching)! -TC
—30—