TC offers a functional alternative for current events and newsworthy information that ISN'T slanted to appeal to a specific audience — Ponder CBS… —editor
---
When I was young, CBS always had a reputation for being the Tiffany Network. In addition to its reputation on quality AND popular entertainment (and sports) programming, many may not know that CBS also has a stellar news division. In this day and age of cable news, social media, and hard opinionated reporting, it is hard to find a news source that just relays the news, without a slant or appeal for a specific audience.
Before my steaming adventures, my national news choice had always been CBS. That includes 60 Minutes, The CBS Evening News with Norah O'Donnell, and CBS Mornings, a less bombastic morning show featuring a round table discussion with the morning hosts, a leftover from the "pre-me too" tenure of the former host Charlie Rose. Last, but not least, the true Tiffany of Morning News Magazine, CBS Sunday Morning, featuring Jane Pauley.
CBS formed a free streaming app that for those not willing to pony up for Paramount+, that brings the best of CBS news and its reporting. This has been my "go to" news source, over the cable news and the other free networks. I found that they had fair reporting, in the vein of Walter Cronkite, who was known to sign off his newscasts with: "And that's the way it is".
I cannot say that the Tiffany Network did not have its reputation tarnished during the years, and its prestige had suffered during the last few decades. However, during the past election cycle, I was able follow and decide for myself, who I felt was suited to represent us in Washington, and in my state as well.
I look to the following for solace:
>> Lesley Stahl, from 60 Minutes:  She has become the senior correspondent of this program, and I feel the true reason a certain person did not get re-elected to the highest office in the nation was because he could not handle her questioning, and walked out of the interview. Watch "CBS News' Lesley Stahl on covering Watergate and the parallels to today's politics"
---
>> Jane Pauley, host of CBS Sunday Morning:  She took up the mantle of hosting this nirvana of morning news programming from the likes of Charles Osgood and Charles Kuralt.
>> Gayle King, Tony Dokoupil, and Nate Burleson:  The current shop keepers of CBS Mornings, they are not the pop generation of GMA or the Today Show but very competent.
>> Norah O'Donnell, the current host of the CBS Evening News. A clean and sharp broadcast.
Also notable is another "talent", that does not seem to get the attention of most (actually as an honorable mention, David Begnaud, complete reporting and storytelling from any a hurricane and storm).  His name is Steve Hartman. The host of a feature on Fridays called "On The Road", which he brings incredible human stories that seem timeless, he also recruited his children for a feature, called Kindness 101.
Watch "Steve Hartman on the power of kindness in new special" on YouTube
---
Your Turn…
I've provided some pointers. Now it is your turn to explore. You can start by looking at some of the clips I've provided… and then click away at your own pace and where your whimsy takes you. I'm curious to (a) see if you agree with me, and (b) if you have eye-opening suggestions of your own. If so, please to share!
Thanks for reading (and watching)! -TC
—30—
---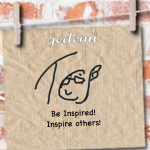 Bonus Clips…
Watch "Animal altruism: Friendship in the animal world"
My friend from Kohl's, Kathie Buck, volunteers here often.
---
Watch "Marcel the Shell With Shoes On: A tiny hero"
---