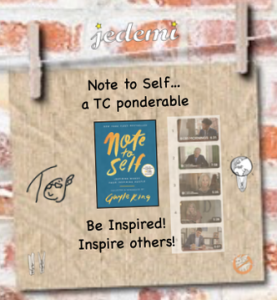 ---
It's time… midway through January with those motivational "resolutions" perhaps taking a back seat, maybe this can get inspired. "Note to Self" essays (not a creative use of Post-Its) are astounding says TC who thinks you'll be inspired to write your own… – the editor
---
During the holidays, we all reflect on the year, the past, and look forward to the future.
During my research on CBS for a previous "ponderable", I came across an excellent feature that started on the CBS Morning Program and has become a small phenomenon: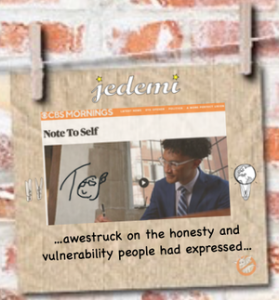 I had viewed this feature for many years and had been awestruck on the honesty and vulnerability people had expressed on the essays they would write to a younger version on themselves.
A young man published his Note to Self, His name is Isaiah Marques-Greene. 18-year-old survivor of the Sandy Hook School massacre. He survived, his baby sister, did not. This mature beyond his years wrote a heart wrenching essay of reflection and solace.
When I tracked down his Note to Self, I found other "Notes" from other celebrities and even politicians. I came across one by Cindy McCain, which as of late, I love more and more as I hear from her.
President Joe Biden wrote a piece, right after his son Beau had passed. No matter what part of the political perspective, how can you not be moved or effected by these essays.
Also Notable…
Gayle King edited a series of "Note to Self" essays, published as a book by Simon and Schuster, a unit of the CBS/ Paramount Global family.
---
The Wrap…
Let's close with this ponderable… The diversity of the essays are astounding and if you are not moved or tempted to write a "Note to Self" after viewing or reading these, well… perhaps your heart has gotten too detached. 'Nuff said…
Now take a look for yourself!
---
Thanks for reading (and watching)! -TC
—30—