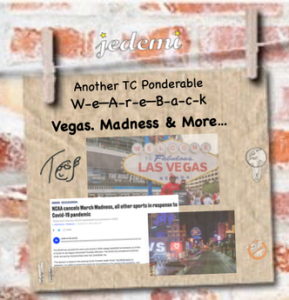 TC has had front row, ringside, and court side seats for all things Vegas during and after the pandemic shutdown. This ponderable marks his astonishment with the sports scene there. Read on! – the editor
---
W-e — A-r-e — B-a-c-k… Yup! Took three years and wow, what a difference!! And now, who would have thunk that my town, Las Vegas, would be the center of entertainment AND sports. Considering that sports is a form of entertainment**, or at least a close cousin, it is not a stretch by all means. Ten years ago, we had NO professional sports teams, only the legacy of UNLV teams past (think Jerry Tarkanian), and ever large sports book, something the rest of the United States did not have.
** Editor's note: ESPN = Entertainment and Sports Programming Network
Enter today (as in 2023), and we have Hockey, Football, Women's Basketball, Minor League Baseball to name a few. The goal is to take on another Oakland CA-based team, namely baseball, to play adjacent to the strip. With eyes on a NBA team too.
What got me pondering "The Madness" was this year's Sweet Sixteen Western Regional at T-Mobile Arena (home of the Vegas Golden Knights NHL team). And the awareness that on the horizon are these:
The Super Bowl — slated for February 11, 2024. Vegas scored when the original host city, New Orleans, had a scheduling conflict with Mardi Gras.
The NCAA Final Four — it was announced in November that in 2028, "The Finals" would be at Allegiant Stadium.
Formula 1  auto racing — hits The Strip in November.  For sure, icing on this jumbo sport's cake. It is one of the final goals we finally are achieving. To think it did not happen sooner.
---
Sooner, Right? Like What Took Ya?
The big wall that delayed this eventual arrival was simply the NFL and Sports Gaming. It was pretty much a Nevada thing for many years. Other than hosting cities, Las Vegas was the second "go to" location for big sporting event. Now with more gaming jurisdictions offering sports books, Vegas had to do it better. The state-of-the-art sports book down town at Circa upped the ante. MGM and Caesars upgraded their branding coast-to-coast.
There's an app for that (sports betting) too!
Got Rooms? Check…
We have the hotel room inventory ( to the tune of over 150K), it wont be necessary for attendees to stay in Laughlin or Reno for the Super Bowl.
We have the airport, and while the bulk of the airline utilize smaller aircraft, the big three can get wide body aircraft for special occasions, like CES, to get visitors here.
As for infrastructure, it is a work in progress. Then again, every city in the U.S. can say that.
That's a Wrap…
Nuff said as you get the picture. We. ARE. BACK!! The energy here is good. So for those of you with a bad taste in your mouth from the Southwest Airlines meltdown, I say… There could be worse cities to be delayed in. At least we are fun… loads of fabulous fun to be had too!
Circling back to the top, as I am writing this piece, in March, Vegas is hosting the following:
We've come a long way, baby! I, for one, am grateful!!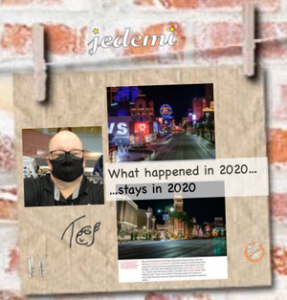 Thanks for reading (and pondering with me)! -TC
---
Bonus Clips…
My town started a new ad campaign at the end of last year which is… LOL funny.
---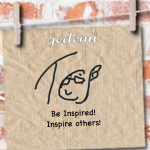 —30—