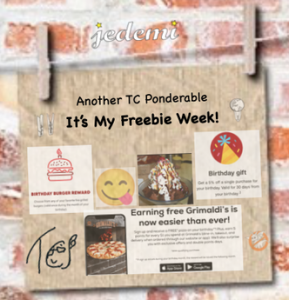 TC's Birthday Week has started and there are freebie goodies to be had. In this ponderable, he highlights some of his favs… Read on! – the editor
---
I had never been a fan of a big birthday party, or even a surprise party. It has never been my style. It may be that you would find out how few true friends you may have, which would be a huge bruise to the ego, and self-confidence.
After 40, 45, or even 55 years old, birthdays are just a hump in the week — and normally a non-eventful day. That is, before I discovered the joys of getting on everyone's promotion mailing list.
It also had a benefit, when you would hit the ripe age of 50, or 55 plus.
When I moved to Las Vegas 16 years ago, virtual marketing just was starting to take off. In the last several years, it has gotten to a point that the email blast you get on almost a daily basis, can prove lucrative, if you work at it.
April 26th! Gates Open…
Yeah… the week before my birthday is when the outreach begins (birthday offers start coming in from the various mailing lists and loyalty clubs kick in). My brother and I joke that during "birthday week" we could practically eat for nothing (out of pocket)… Nice meals too!
A second wave (mixing metaphors) hits on May 1, during the actual date of my birthday, May 3rd.
Plus-Plus for Fifty-Five+…
And there's more!! For the post 55+ years old folks, you get senior discounts. It will probably be the only time you would appreciate getting older, but I digress.
---
Offers I Can't Refuse…
Ready for some examples??
Free Pizza at Grimaldi's Coal Fired Pizza (Something my editor may enjoy)
Free Colossal Brownie Sundae at Buca di Beppo, when you bring your party in to celebrate. (It IS HUGE).
Free entrée or salad bar at Ruby Tuesday. (If only they had not closed every location west of Colorado)
You get the point.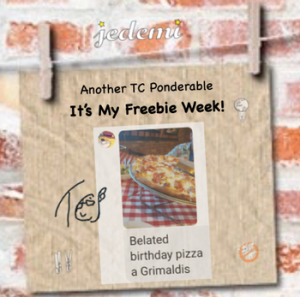 ---
Starting May 1st…
Red Robin's free "Birthday Burger" with the bottomless fries. (Yum!)
Free Large drink and popcorn at AMC theaters. (Popcorn for days!!)
10% off at Target (Always good!).
Pretty awesome, right?
What I do is cue up the offers every year and have them in a separate mail file on my accounts for easy access. Most of them had value go down in recent years, just a desert or such. But still, IT. IS. FREE. FOOD. (AND. MORE.)
WooHoo!!
---
Embracing the Pluses of 55+ …
When you hit "a certain age" you get to "welcome" fabulous discounts YEAR ROUND (!!) This is extremely helpful when you are watching your budget. And in Vegas, most casinos consider you a senior at age 50 (!!!). Also notable, at the old Hard Rock, it was 45!
When I was gambling, it came with lots of perks, especially the pre-pandemic discounted buffet. Yum Yum !!
---
That's a Wrap!
These two weeks are notable for "winning" some type of payback for all those loyalty cards and email lists signed up for.
In a post-COVID world (with a shaky economy), the offerings may not be as generous, but that's okay with me.
I will let you know how I make out this year. I am already hungry!
Thanks for reading (and pondering with me)! -TC
---
Bonus Videos…
A Katy "Twofer"!
---
---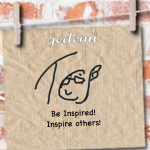 —30—