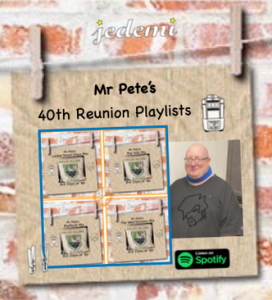 Unable to attend his high school's 40th reunion, Mr Pete put together four (yes, 4!!) playlists to appeal to all demographics of his graduating class. Give 'em a listen here…
---
Here goes! From my wayback machine to the Class of 80. Enjoy!
Pop Hits
My list and a few selected videos to capture the spirit.
The Stranger
In 1977, Billy Joel released his album The Stranger to massive critical and commercial success. Watch this live performance of the title track, 'The Stranger' from New York City's Carnegie Hall in 1977.
---
PopRock Mix
Blue Oyster Cult – Don't Fear The Reaper
How about this classic? Jethro Tull – Bungle in the Jungle
---
Locker Room Disco Mix
Annie reminded me of this: Disco Duck
And if you really want to go back in time, see this "live" performance from the television show, American Bandstand.
Since the list ends with Theme From Shaft, Annie pointed out that it has been sampled quite a bit.
74 songs? Check an example here.
---
The Wall/Stoners
'Cause smokin ain't allowed in school, right? This one is for the "wall" folks.
The Doobie Brothers – Takin' It To The Streets (Live)
The Allman Brothers Band – Ramblin' Man – 11/2/1972 – Hofstra University (Official)
And, I can't leave this one out.
Reminiscing Wrap…
I very much hope that you've enjoyed my present to the Class of 80. Please share and, as always, we here at Jedemi encourage you to #SCMF: Stay Curious!
—30—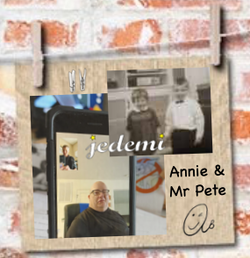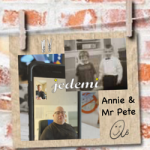 About Mr Pete
A music aficionado, Mr. Pete's mind and ears have no horizons. He has the uncanny ability to suss out the right song for the right time — a skill that is truly amazing. The Gang here at Jedemi enjoys his contributions.
---