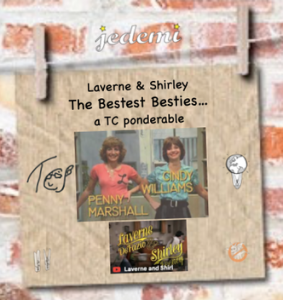 Make our dreams come true… for me and you. Memorable and inspirational. The passing of Cindy Williams gets TC pondering Besties and more. Read on! – the editor
---
Back in my youth, The ABC Tuesday line up was comedy genius. From the Studio of Paramount and the house of Garry Marshall, came the power house line up of "Happy Days" and "Laverne and Shirley." These shows were in their peak from about 1975, when Happy Days hit its stride, until about 1978, when an unknown Robin Williams, guested as "Mork from Ork," with an improv performance that caused a network, studio, and producer to create a series for his huge talent.
Also around this time, these shows started to go off track. The expression "Jumped the Shark" referred to the episode where the Happy Days cast were visiting Southern California, and for some reason, Fonzie had to water ski over a shark in the Pacific Ocean for a girl.
Yes, I know… Made. No. Sense.
Laverne and Shirley took a little longer to "jump the shark," but eventually it did. The cast moved to Hollywood from Milwaukee for some random reason. A few years later, "Shirley" left the show and Laverne became the TV version of a one-armed wallpaper hanger.
A sad end to complete a contract.
Note: Penny Marshall, who played Laverne, went on to be a famous movie director, just like her brother Garry.
---
Cindy Williams, after raising her children, went back to acting on stage, with some time spent in Las Vegas in the cast of "Menopause, the Musical" on the Strip.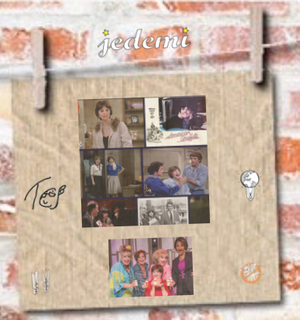 She also was part of the producing team that brought the Steve Martin "Father of the Bride" movies to fruition.
Compared to…
These ladies had always been compared to Lucy and Ethel ("I Love Lucy" and "The Lucy Show"), mostly due to the mastery of physical comedy. To some degree, the generation following them begat "Perfect Strangers" with Bronson Pinchot and Mark Linn-Baker, Urkel on "Family Matters," and the title characters of "Will & Grace" and their sidekicks: Jack and Karen.
I think the comparison to Lucy and Ethel is short-sighted. The show title says it all— I Love Lucy (and also, The Lucy Show) — with no disrespect to Vivian Vance…
---
Where it Began…
When they were introduced on Happy Days, they came as a pair—like a set of arms, or legs. The two worked together, and the chemistry was evident to all during the special appearances (two episodes). This dynamic stood out and got them their own TV series. Not only was it more successful than the original series it was spun off from, but IMHO, was much (much!) better than Happy Days.
Sadly…
We lost Cindy Williams in late January. The last half of the duo passed away. Penny Marshall passed away a few years back.
Gone but Still Viewable…
Again, thanks to streaming, the "Laverne and Shirley" series can be viewed via a number of platforms. Presently, it can be found on Pluto TV (ironically it is shown on their Happy Days channel, which is also shared with "Mork and Mindy") .
However…
I wasn't thrilled with the episode choices which were available after her death (Really? Ya had to run with "After the Shark" shows that left much to be desired, especially with 1980's hair in 1966?).
Later, we got back on track, with the episode that had the girls celebrating New Years Eve in 1960 (much closer to home and the time frame the show started on). Shirley was with Carmine (AKA "The Big Ragu"), and Laverne's date was a guy on the rebound.
All were celebrating at the Pizza Bowl her father owned. Laverne's date got back with his girlfriend. Devastated, Laverne ran out. Shirley followed her to come to her aid. Then came comic relief as Lenny and Squiggy did the Shotz Brewery version of the NYE ball drop. Yup, all is good in the world!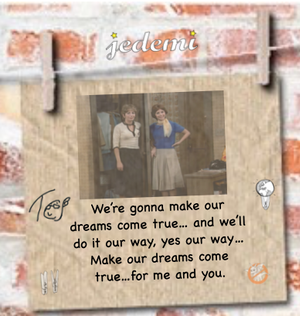 We're gonna make our dreams come true… and we'll do it our way, yes our way. Make our dreams come true… for me and you."
Just like the theme song and some killer duo chemistry, we are transported to perhaps a simpler period of time when we could count on a Bestie to get us through thick or thin.
That's a Wrap!
I ponder… Who is my Laverne… to my Shirley? Or who is my Shirley… to my Laverne?
Perhaps you can ponder along with me. Better yet, how about this?
Make time to reach out to that Bestie today!
Thanks for reading (and pondering with me)! -TC
---
For Your Viewing Pleasure
---
—30—