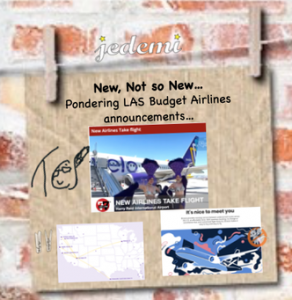 Sent TC back to the airport for this ponderable. Perhaps you saw bookended announcements about a couple of new budget airlines now servicing Vegas. Reluctantly, TC agreed to this diversion in order to set us straight as he knew the "new" wasn't so new. Read on and… Enjoy! – the editor
---
A big deal was made recently when two budget airlines announced new service, and one new crew base, at Harry Reid International Airport here in Vegas.
The Truth? They are not new to LAS…
[So much for my editor listening to the news report with half her ears LOL!]
Breeze Airways has had gates at LAS for a while. Their business model is built around their chosen aircraft — an Airbus 220 which is right sized for the 100 to 150 seat market. That means Breeze continues to add service to smaller cities where "destination" trips economically make sense. In a sense, the "new" is just add-on markets.
The other "new" airline touted was Avelo Airways.
Avelo Airways already connected Santa Rosa, California to Las Vegas.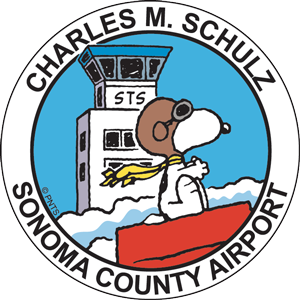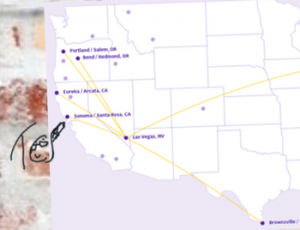 Now with the creation of a new crew base, basically 50 employees and a 737, Avelo is adding a half dozen secondary cities currently not paired to Las Vegas. These moves are not surprising considering the current and future environment.
Then there's the elephant in the room to consider…
It's the pending JetBlue Spirit Merger…
Spirit is currently the Number Two (#2) carrier at Las Vegas.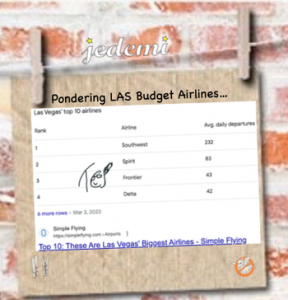 They had been quite successful with their ultra-low price model. If the merger goes through, Spirit will most likely take on the JetBlue model. They will get a larger imprint stateside to support it's European expansion.
A competitor, Frontier Airlines, is practically a Spirit clone with few minor differences. A spurned suitor for merger, they can easily conquer the ultra-low cost market. Or not.
---
Circling Back Around to Avelo and Breeze…
Avelo mirrors the Allegiant Airways model, two flights a week to tiny cities and big build up packages and upgrades. Breeze is a brainchild of JetBlue founder David Neeleman. Instead of a New York base, he has gone point-to-point travel– focusing on cities often not connected to vacation spots without a plane change.
IMHO… I see them posturing in position to a major shake up if this merger goes through. The JetBlue-Spirit deal is mostly to get compatible aircraft and staff quickly. JetBlue product is on the high end of the low cost carrier operator. There is enough competition for the cheap seats with the new service and newer carriers in place.
---
That's a Wrap!
Or not… These flying animals tails (tales) are not going away. They see turf to protect and protect they will. And Southwest, the biggest airline at LAS, is starting to look like the big 3 every day.
I'm comfortable saying "New, NOT New, is the New Normal…"
For sure, this is a story to be continued. Thanks for reading (and pondering with me)! -TC
---
Notable…
As mentioned above Breeze was founded by the jetBLUE, Morris Air guy, Mr. David Neeleman.
[Neeleman is an aviation legend. Born in Sao Paulo, he has founded five commercial airlines, four of which are still operational and have become well-known names.]
You can read more about the Breeze Airlines story here.
---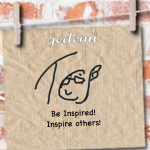 —30—