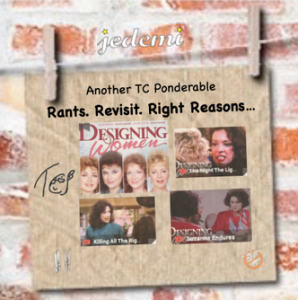 TC turns his attention to seven years worth of streamable episodes which follow the misadventures of Suzanne, Julia, Mary Jo, Charlene and their handyman (bridging late 80s to early 90s). Witty? No doubt! Highly relevant in today's world? Most definitely! Read on! – the editor
---
It has been a long time since I had written about my streaming adventures. I have been trying to keep a balance on unseen recent movie releases, (Cocaine Bear), to live programs I would have missed without the many platforms, (i.e. GLAAD Media Awards). But when I am down and not feeling great, I have always returned to four women who always cheer me up.
No, while I enjoy them, it is not the Golden Girls.
I am talking about the sisters Sugarbaker, their interior decorating business, and the two friends they went into business (and hock), together: Mary Jo Shivley and Charlene Frasier.
"Designing Women" made its debut on CBS in 1986. A dynamic sitcom described as "The misadventures of four women and their handyman running a design firm in Atlanta,"started in the "me" decade that dared to be "woke" way before some thought it would be a liability. If you watch an episode, the fashions and décor seem dated. However, the topics are just as current as today.
---
The pilot episode introduced the premise along with the main characters.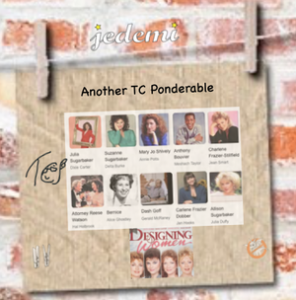 It was hard to not see that patriarch Julia, played by the late great Dixie Carter, had some of the best, catty dialogue in years. Her sister Suzanne, played by the beautiful Delta Burke, was the former pageant queen and current southern belle. Mary Jo, played by Young Sheldon's Annie Potts, and Charlene, played by the Emmy award winner Jean Smart (Hacks).
---
What to Watch…
There are some signature episodes that most may know. Other than the pilot, one standout is when Mary Jo's daughter Claudia was entered in the Miss Atlanta Pre-Teen pageant. Of course, that got Suzanne's pageant dreams all stirred up, only to find out she was (most definitely) a former Miss Georgia World and a dinosaur at the age of 29 (30!). To her sister's surprise, the current pageant queens were making fun of her, which led to the most devastating read that had been copied by drag queens all over the world.
…and that Marjorie, so that you know, and your children will soon also know, is the night the lights went out in Georgia!
Talk about sibling backup!
---
I was very struck by another episode from 1987 in which a 24-year-old man (Tony Goldwyn, before being the bad guy in GHOST and SCANDAL), suffering from AIDS, contracted the girls to design the room where his funeral was to be held. At the same time, Mary Jo had a PTA debate on safe sex education in public school. A client found out about the job and proceeded to chastise all because the man deserved his fate (and this was God's punishment for what they have done, and IT was killing the right people). Cue Julia…
…Come on. Get serious! If God was handing out diseases for sinning, then you would be in the clinic all the time, and so would the rest of us!
Julia 2, People 0…
---
However, it is not all the Julia show. Suzanne attended her high school reunion and dealt with former classmates commenting on how "fat" she had become.
In another one, Mary Jo had to overcome her fears of being attacked by a mugger (and one of the company's clients).
And don't count out Charlene. She came across as the most naive of the four. However, in an episode about her faith, she came to terms that in the current climate, women in the Christian church are not welcome to be preachers. She broke with her congregation, and had the guts to be faithful with her beliefs, without involving a parish, or preacher.
Gutsy women, circa 1986…
Come a Long Way Baby??? You would think that we had progressed from this era almost 40 years ago, when Ronald Reagan was in office. In my view, this show is as timely now as it was back then. The ponderable is, are we man (or woman) enough to learn from it?
---
As the show progressed, we got to know others in their world…
There was the delivery man, Anthony Bouvier (Meshach Taylor), who was trying to improve himself after his "unfortunate incarceration."
Also, Bernice Clifton played by the hysterical (as in LOL!!) Alice Ghostley. The flighty friend of the Sugarbaker's mother, could easily be describes as "one french fry short of a Happy Meal," as the saying goes, due to an aorta flow issue.
---
That's a Wrap with a Side of Ponderable…
If this series was updated (reimagined) for today, it would need to reflect the diversity of Atlanta now, which would make it more accurate. Accessible too! That being said, this "Designing Women time capsule" keeps me coming back, for the right reasons. Check it out.

This show makes you think, while you laugh. Isn't that what a great sitcom supposed to do?
Ponder the clips embedded here and enjoy!
Thanks for reading (and pondering with me)! -TC
---
Bonus Clips…
Designing Women | Julia's Best Rants (22-minutes worth!)
The Best of Anthony Bouvier | Designing Women (3-min)
---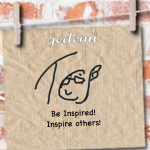 —30—