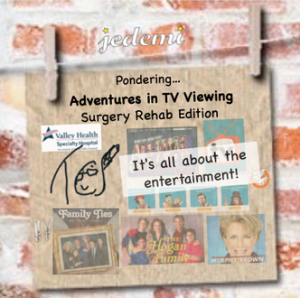 In a world where cord-cutting has become the norm, TC provides his thoughts on… Re-connection (during his recovery). Read on! – the editor
---
Greetings from Valley Health's rehab facility. Lots of time to ponder for sure. For those who kept up with me, I am in the middle of my rehabilitation from surgery six weeks ago. After some long needed rest and reflection, not to mention multiple TV marathons, I return to the Jedemi universe.
I wish I had a more philosophical essay, but those who know me, I compile various observations and experiences. I'm not here to review my care, recovery, nor the food served here in the Valley Health System.
It's all about the entertainment!
Flash!! The Cord has been Reconnected!
My new residence at the Valley Health Specialty Hospital has the wide spectrum of TV channels from Cox Cable, so I am getting reacquainted with past favs, including:
Plus, MeTV, Antenna TV and Cosi TV are my new hospital bunkmates.  As a result, the fine programming of the 80s are being revisited.
In fact, I just screened a classic episode of "Family Ties" that fits in the "very special episode" classification/genre.
[Examples of "Very Special Episodes" can be found here. -the editor]
---
Heartstrings…
In brief, the sitcom Family Ties revolved around the Keatons – former hippie parents, raising kids in the 80s, including an ultra conservative oldest son (Alex P Keaton), played by Michael J Fox in his star making role.
During viewing this episode, which was from the show's final season, we experienced the Keaton father suffering a heart attack and bypass surgery. This three-parter exposed the possibility of parental mortality. The feelings were real, from the whole family.
In later episode, the family returns from a funeral of a classmate and close friend of oldest son Alex P Keaton. We watch as he has a vulnerable period of mourning and breakdown. We finally watch Alex leaving the nest —moving to New York. Of course, his mother, played by Meredith Baxter Birney, is not too happy that her oldest son was moving out of the house (in Columbus, Ohio), and so far away .
[See the Set here. – the editor]
Got to me…
Needless to say, I found myself getting misty. The episodes held up, were not hokey or trite. So a major takeaway is that, 40-years later, with good writing and good acting you get some great "Must see TV".
Onward!
---
Hitting the Rewind for Another Special Family…
On a new (at least, to me new) digital network, Rewind TV, screened a very special episode of The Hogan Family.
This sitcom about "a woman who juggles career and family," was originally called "Valerie" as it starred Valerie Harper. After she left and was replaced by Sandy Duncan, it switched to the "family" name. It featured a very young Jason Bateman, who was featured in a very special episode concerning the AIDS crisis.
Jason's character was dealing with a friend who got AIDS, with the help of Sandy Duncan, learned how to be compassionate to his friend. This was not as well written as the classic Designing Women episode "Killing the right people" (referenced in my May post), which aired around the same time. However, it was handled with compassion, just like the Hogan family did.
---
Then there is Murphy Brown…
Also on Rewind (from the late 80s), this show was about the "personal and professional misadventures of an opinionated but beloved woman working as a television journalist".
The final season may seemed to jump the shark when Murphy briefly left her job at FYI to join the current administration in the White House, only to return to her show when Joan Lunden turned it down.
A random breast cancer exam with her showrunner, sparked a surgery and chemotherapy treatments. Candice Bergen gave her co stars a chance to shine in various episodes concerning privacy in hospitals, post surgery care, and mortality. In all these very special episodes, no major characters were lost. They didn't kill off major characters in the 80s. Especially in very special episodes.
This was another well-written series, just not as daring as now. If current times were like the 80s, we would still have Mr.Big and/ or Roseanne Connor.
---
That's a Wrap!
As I get myself "re-programmed" to transition back into the "real world," I will continue to enjoy the mental breaks provided by these throwback TV adventures.
Thanks for reading (and pondering with me)! -TC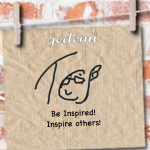 —30—