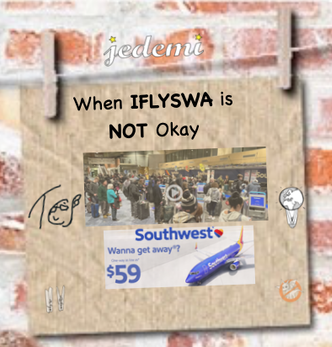 When the Southwest machine was working, it was the best, says TC. However, now the winter weather snowball effect has made life challenging. TC ponders IFLYSWA's travails going into the new year… Read on! – the editor
---
After working at the former McCarran/now Harry Reid International airport for 12 years, sooner or later I was going to bring up the super fail the main air carrier, Southwest Airlines (SWA), experienced last December. For those who do not know, I worked for a lead travel retailer, who has a big contract with LAS airport, who always was referred to as "The Traveler's Best Friend." It was our mission statement to be available for flying guests through thick or thin, and stay open for delayed flights. The objective was to be available for distressed passengers when other concessions have closed for the evening (or have not even opened for the day). I always tell customers that there was a reason Walmart does not run gift shops at airports.
Yes, those $5.00 bottles of Dasani paid my salary and my medical benefits…
Pricing and availability are an issue with the pricing structure of working at an airport. Yes, those $5.00 bottles of Dasani paid my salary and my medical benefits, among other things for the multiple persons who had the hand in the cookie jar, but I digress.
Southwest's computer system and programs to handle flight disruptions had been antiquated for many years. Thanks to the Pandemic, the can got kicked further down the pike. Somewhere along the line, it was decided to prioritize on expansion (add more cities to their map), along with the keeping their standard "free luggage" allowance and a generous re-accommodation policy. As a result, that can got kicked EVEN further down the road. After all, there was shareholders to consider.
Inclement Weather + Holiday "Get Away" Volumes = Perfect Storm…
It was a perfect storm, and during the time of goodwill toward your fellow man, it was a total classic fail.
Seriously, Spirit, Frontier, and Allegiant recovered faster than, with a limited scheduled. The Big 3, American, Delta, and United, all have had meltdowns in recent years, and worked hard on updating their infrastructure to mitigate / minimize the "delay" experience. Even Alaska and JetBlue bought a clue.
When the SWA machine was working, it was the best!
Yes, and… Now they have to do some serious damage control. PLUS, that infrastructure issue isn't going away.
The big 3 announced BIG profits in the 4th quarter for the first time since 2019. Meanwhile, Southwest is challenged to account for the consequences of their LACK of action along with reduced bookings for the 1st quarter.
IMHO…
Will Southwest survive? Yes.
Will Southwest change its product? No.
During the pandemic, Southwest shifted its aircraft to focus on secondary cities with leisure destinations that they never serviced before (like Palm Springs, Bozeman, Santa Barbara, Fresno, and Bellingham). They also got into fortress airports they avoided (Miami, Chicago-OHare, Houston Bush Airport).
All fine and good until… the return of business travel. Okay, so not to 2019 levels, but still impactful.
Furthermore, the pent up demand for leisure travel after being "locked down" for so long, meant this past Christmas season, everyone was going to travel.
Sure, you can blame the weather. But this year, clearly, the circumstances were ripe for the ruining of many a Christmas.
Key Learnings…
Actually, not learnings as more of a reminder I'd say.
Being a child of habit, and years in the Travel service industry, I go out of my way to AVOID travel during the holidays. Still having flashbacks of the annoying 3-hour backup on the roads to my sister's house for Thanksgiving and Christmas. NO. MORE.
Life is good if I shift my travel to non-peak times. In my case it was the following:
January to Florida after CES in Vegas.
Late April/Early May after Easter Break and no later than Mother's Day.
Late August/Early September as the kids return to school.
In other-words, avoid peak travel. Tech savvy and the smartphone can connect the world during the holidays, as long as you dial and they answer.
That's a Wrap!
Got a smart phone? Got Zoom and Facetime and Facebook Messenger? Try using these fine means of communicating during the holidays. Worked during the pandemic and can do wonders during those peak travel periods.
as long as you dial and they answer.
…as long as you dial and they answer…
As for SWA, I hope they get their act together. Here is to 2023 to find out.
Thanks for reading (and pondering with me)! -TC
---
For Your Viewing Pleasure
---
Wanna Get Away…
My editor reminded me that maybe SWA can be featured in their own commercials. Here are links to the original campaigns:
---
—30—