Previously, in our #TMP Tale, a Domino's pizza-filled Peyton became increasingly frustrated with every channel-change causing cooking shows to appear on his beloved television, NOT his NFL Sunday ticket games. So after a bit of a scramble, he managed to find the keys to his Buick and he raced off in a cloud of dust / screeching tires. The #SaveOllie gang is outside laughing so hard tears came to their eyes. The ringing of a mobile phone snaps them back to the present moment.
---
FADE IN
EXT. PEYTON'S PLACE
JimmyG: Whoa! Did you SEE that?
Oski and Ollie, the furry buddies-in-battle, nod enthusiastically.
Bri: Whoa, indeed! That was even better than imagined. Now, if he follows the DIRECTV playbook, he should be on his way to the…
Before she could finish her thought, her mobile wakes up playing C+C Music Factory's "Here We Go" song for a ringtone.
…Go, go, here we go!
Go, go, here we go!
Go go, here we go! Ah!
Freak out!
---
Oski and Ollie look at each other, fur five and nod their approval. JimmyG has a huge smile on his face.
JimmyG: For real? That's your ringtone?
Bri: Just added it to make sure I didn't miss the call from the our Cal Drone guys. They've got eyes on Peyton and he is indeed heading for the park.
JimmyG: Are we all set for the next phase?
Bri looks at her phone and then back up.
Bri: Yup. Uber just dropped them off and they are getting into position.
JimmyG: Awesome! We better get moving too. Our pals here need time to get into character.
---
DISSOLVE TO: THE PARK'S PARKING LOT
Bri waves to another of the Cal gang. This one is driving a red Jeep Wrangler that has been decked out with extra lights.
JimmyG: That's bad ass!
Bri: I know, right? Let's get into position.
The #HelpOllie gang spy "the Peyton bench" where currently an elderly gentleman is sitting watching people going by.
JimmyG: Here comes Peyton.
Just like the TV ad, Peyton sits down and pulls out his phone. After a brief pause to swipe away all the notifications, he pulls up the game he was trying to watch at home.
The elderly gentleman pipes up.
Elderly Man: You again? If this is going to be a regular thing, I'm gonna find another bench on Sunday mornings and designate it the "watching nothing" bench.
Peyton: Oh, I'm sorry. But…check this out. Can you believe I can get the game here in the park? I can FINALLY watch the game I want — better than at home, too I might add. My home media center went kablooey. It's the darnedest thing too.
As Peyton yammers on, the elderly gentleman looks up at the sky and notices a rapid change in the weather. He struggles to his feet, motions skyward and slowly meanders down the path away from Peyton who doesn't even notice.
JimmyG: Okay Bri. Let's roll.
The skies darken more. From the Bad-ass Jeep comes the instrumental portion of Michael Jackson's Thriller.
Then from behind the trees emerge a who's who of insurance spokespeople dancing the choreography of the Thriller zombies.
Jake from All State
Mr. Mayhem
Professor Burke
The GEICO Caveman
The GEICO gecko
Discount Double-check Rogers
The Cat Burglar lady
JimmyG is posting pics to social media. #PeytonParkThriller.
Bri is talking to herself while recording.
Bri: Crap! He's barely noticing. Better kick it up a notch. Ready fellas?
---
In another "better than imagined" move, the Bad Ass Wrangler provides perfect lighting behind Oski and Ollie. The furry pals have their Peaky Blinders attire on (long coats and razor-blade hats).
With the back-lighting. They look huge (like that scene from Princess Bride where Fezzik poses as The Dread Pirate Roberts "here for your soul."). And as the shadow comes over Peyton, he finally looks up.
Of course, the stereo is playing Red Right Hand — Nick Cave's edition — to complete the scene.
On a gathering storm comes a tall handsome man
In a dusty black coat with a red right hand…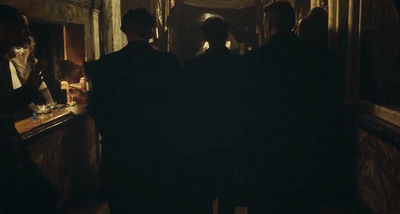 ---
Staring at the Peaky Pals (imagine a bubble over his head with his thoughts, "WTF?"), Peyton doesn't notice that the Zombie Insurance Spokespeople have moved in on him — surrounding him with Mr. Mayhem working his way under the bench getting in position to tip it up as the others push.
The music shifts to "Scared of Me."
From beneath the bench, Mr. Mayhem is making banging noises as he shoves upward to dislodge Peyton from his seat.
And Peyton's reaction, captured on video, moves from puzzled to startled to very scared. Then he gathers himself, jumps up and moves as fast as his slippered feet can take him, back to his Buick.
Fumbling with his keys, he gets the doors open, jumps in and peels rubber a second time.
As the dust settles, so to speak, nature cooperates –the dark clouds move off and the sun reappearing.
Bri: Cut!
JimmyG: That's a wrap!
Bri: Great job guys!
---
Oski and Ollie are jumping around excitedly. The Zombies are peeling off their masks and laughing as JimmyG pulls a cooler up to a nearby bench with tasty beverages just as the Domino's DXP arrives with pizza for them.
Bri: You got the pizza mobile following us around? They on contract or something?
JimmyG: Are you kidding? They love having this opportunity to be "messin' with Peyton." Even got a shot of the Buick and the DXP in the same frame just to piss off the Papa Johns dude some more.
CUT TO: Overhead shot as the drone follows the Buick to the next destination.
CUT TO: Bri's mobile showing the interior of Peyton's car.
JimmyG: Turn it up. What's he saying?
Peyton is actually cursing up a storm talking to himself then to his Buick as he asks for "The Outlaws" and instead gets another version of Red Right Hand that continues playing even after he presses the "Off" button.
FADE TO BLACK:
Music continues…
You'll see him in your nightmares
You'll see him in your dreams
He'll appear out of nowhere
But he's not what he seems…
---
Stay tuned as this story gets even better.
The Cal Drone Guys are following along as the Buick takes off for its next destination.
Hint: Salty Domino's pizza (he couldn't resist) equals a thirsty Peyton, equals a stop at…
Let's just say, he'll end up where he will continue to learn that he can run, but he can't escape the wrath of an otter scorned.
###