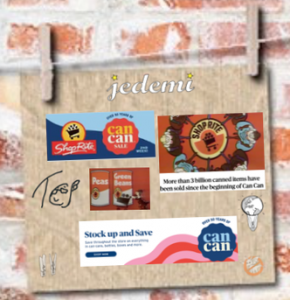 ---
Don't they know… It's the Joy of the Can-Can Sale!!!
Here we are in January. For Vegas, we continue to buzz from New Year's onto the Consumer Electronics Show (CES) to… And on and on. There's always something to bring on the joy here. But from where I used to live, post holiday was…grim.
Stores transitioned from holiday to "plain mode." Music from holiday tunes to the more suicidal "The End of the World" by Country singer Skeeter Davis (I kid you not… and yes, I wanted to break a beer bottle and end it all when that song came on).
That being said, I did find a source of January Joy…
---
---
"Now's time for the Shop-Rite Can-Can Sale; Everything for the Can-Can"
Ah, the local Shop-Rite market, which was already an over merchandised mess of product, undergoes a major rework — stacked up with cases and cases of Can-Can sale specials .
[Note: of course, the thought of canned food on the West Coast is kinda appalling, there was a strange attraction back home in Jersey —ed])
For sure, the advertising on television was iconic. Even if you weren't in the (super)market for can foods, you still smiled at the cleverness of it all.
---
---
Honestly, it put me in a happy place back in the day, and still does. In moving to Nevada, I've noticed that others have tried to imitate / replicate. In fact, our Kroger division Smith's has what they call a "Can-tastic Case Lot Sale". Close but no cigar.
I joke with my East Coast friends about my obsession with the Can-Can Sale.
How obsessed? I worked it into my Drag shows back in the day. Thanks to YouTube (see above), I can pull up classic ads to get my "fix."
I recall this sale was so big (and successful), Shop-Rite tried a Summertime version of it. Needless to say, It never took on like the classic– the dead of winter, January event.
Notable: 50 Years?!
This January marks — 50-years of Can-Can for Shop-Rite. That's saying something… What exactly? You decide. Maybe this a shopper's version of comfort food, suggests my editor.
The Wrap…
There was something about that sale made me look forward to January (even if that meant being in a chilly store during the doldrums of a post-Holiday stupor). Whether you are an ex-Jersey pat or just someone who's just curious, please click and join me for a stroll down memory lane.
Born In an era before the "Wal-Mart, Sam's Club and Costco -zation" of the shopping world, the Shop-Rite Can-Can Sale was the end-all, be all.
Thanks for reading (and watching)! -TC
—30—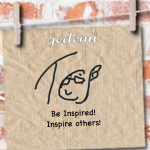 Bonus Track:
---