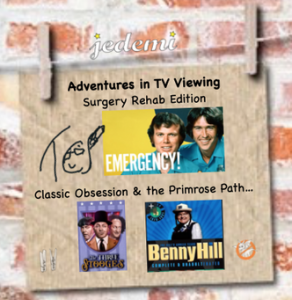 TC is hearting his television adventures during his stay for post-surgery rehabilitation. In this ponderable, he revisits an often used phrase of our Mom's: "…down the primrose path…" Tee hee says TC. A nice diversion, for sure. Enjoy! – the editor
---
Greetings again from Valley Health's rehab facility. Continuing my flashback theme during my recovery, I have returned to Rampart Emergency Hospital and a trip "down the Primrose Path" (as our Mom used to say). Let me elaborate. No visit to a real emergency room (remember… I post about my TV adventures mostly).
Rather, I found out that there was a three-hour block of an old friend of a TV series: Emergency!
Produced by Jack Webb, "Emergency! (1972–1979)" was a follow-up to Webb's two previous series, Dragnet and Adam-12. He worked closely with Los Angeles County officials to provide realism in the productions, which is pretty cool as art imitates life (okay loosely, but still…)
In the early 1970s, LA was one of the first cities to have paramedic services [Squad 51] aligned with the Los Angeles County Fire Department. These firemen went on calls for assistance and communicated with a regional hospital as an extension of the doctors based there.
For this TV show, the medical assistance was directed by Dr Kelly Bracket and Dr Joe Early, amongst others, along with head nurse Dixie McCall.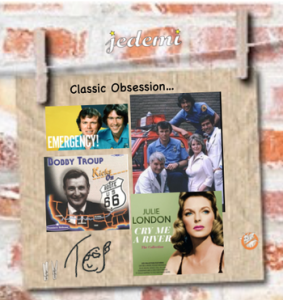 Accuracy was paramount… to a point. For example, it seemed Squad 51 was all over Los Angeles—easily a range of over 100 plus square miles. And the ETA (as in estimated time of arrival) was 20 minutes. Always. In Los Angeles. Really??
And the ETA was 20 minutes. Always. In Los Angeles. Really??
Rampart Hospital did not believe in PPE (as in personal protection equipment) in their ER. Dr Bracket took off his doctor lab coat to perform a tracheotomy. All in a wide 70s necktie and big 70s hair. Fancy!
What a Cast!
While the paramedics were played by newcomers Randolph Mantooth and Kevin Tighe, Webb made sure to cast familiar faces, and friends:
Robert Fuller turned in his cowboy spurs from Wagon Train to portray Dr Bracket.
He cast couple Julie London** as Nurse Dixie (Dixie McCall R.N.). London was a chanteuse, with a sultry voice, known for her version of "Cry Me a River".
And Bobby Troup as Dr Early. Troupe wrote and performed jazz music and songs in Disney movies, such as "That Darn Cat". More on him here…
** My Dad whipped out a Julie London album in his collection to our surprise.
[Notable: London was married to Jack Webb. After they divorced in 1954, she remarried five years later. Her spouse? Bobby Troup.]
---
Amazingly, "Emergency!" was a show amazingly my parents let us watch. It was on during the family hour on Saturday, at 8pm. Just because it was on during the family hour doesn't mean it wasn't contraband, and it wasn't a trip "down the Primrose Path"!
So… Primrose Path? Please to Explain…
What does that mean? I never got a straight answer from my mother before her death. Just some common association of what it could be based on the programs banned in our home, or stuff we watched behind closed bedroom doors.
We had a vacant bedroom which contained an old Zenith 12-inch black and white TV. When certain programs finally were syndicated in our TV market, we had to openly sneak in there to watch "this contraband".
Like… Really? Indeed! Here are some contraband examples:
 The Benny Hill Show —arrived in the USA the fall of 1979. This bawdy comedian from the UK had a long running program on Thames Television for many years. It was an adolescent boy's Nirvana. Naughty lyrics and limericks, women running around in knickers, smacking the head of a really old man, all sped up in double time. I was 12 years old again.
The Three Stooges — had been around for years and eventually found its way to our TV market. Think of it as "live action cartoon violence". Every 12-year old loved Moe, Larry, and Curley, and even Shemp!
The Little Rascals, or Our Gang —fun frolic from the great depression that integrated children and innocent mischief. Only when the kids got older did the novelty fade.
Note: Eddie Murphy, during his Saturday Night Live (SNL) days, reintroduced Our Gang's Buckwheat. We HAD TO find the original source and learned about Spanky, Alfalfa, Darla, and the rest of the crew.
At least once a month, almost on a schedule, Mom would crash our contraband screening exclaiming, "You guys are going down the Primrose Path!"
Okay, so… Where exactly was the Primrose Path?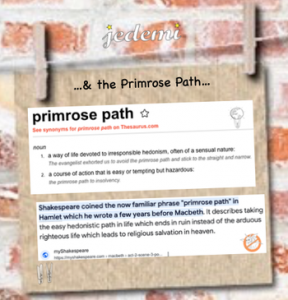 Per the dictionary, apparently it is "a pursuit of pleasure even if it comes with disastrous consequences". Really?? And an example being the plot of a 1940s movie where a woman born to a family of prostitutes, falls in love with a good man, and the consequences around when the man finds out her background.
Wow! And again… Really?? Head-scratcher, it is as sibling James and I never became hookers or took on various forms of disreputable activities. We just giggled. A lot.
We just giggled. A lot.
That's a Wrap!
As I hang out here in the rehabilitation center, I have plenty of time to ponder when I'm not in various sessions or watching TV shows like "Emergency!" And ponder I did on this very topic. And honestly, I find myself AGAIN giggling away (like we did at age 12). The content, for sure! But also, at the thought of my Mom bursting in. Tee hee! Thanks for reading (and pondering with me)! -TC
---
A Classic Primrose Path Example…
If that phrase sound vaguely familiar, it could be related to the number of times you've viewed "Ferris Bueller."
You may recall this exchange between Dean of Students, Mr. Rooney, and the protagonist Ferris's mother:
Mr. Rooney: It usually is. So far this semester he has been absent nine times.
Katie: Nine times?
Mr. Rooney: Nine times.
Katie: I don't remember him being sick nine times.
Mr. Rooney: That's probably because he wasn't sick. He was skipping school. Wake up and smell the coffee, Mrs. Bueller. It's a fool's paradise. He is just leading you down the primrose path.
---
Bonus Clips…
Dixie McCall R.N. sings Cry Me…
---
Dr Joe Earley's Route 66
---
Buckwheat Eddie Murphy Style…
---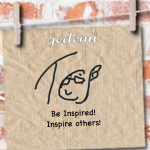 —30—