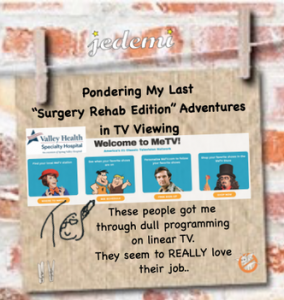 TC writes about the conclusion of his "residency" in Vegas– what he'll miss and what he looks forward to TV-wise. Saturday AM cartoons, c/o MeTV, leads list. Enjoy! – the editor
---
This week concludes my residency in Vegas… That is, my time at the Valley Health Specialty Hospital. As Peg and I prepare to head on home, I found time for one more bedside "TV adventure" ponderable. As it is truly "a Wrap," please follow along and check my flow…
I have been a fan of what I'll call "digital sub stations." These TV stations are an off-shoot of the changeover from free analog to free digital TV broadcast (Think over the air and not involving a cable or satellite connection). One thing you may not know is that these stations were developed with cooperation with many broadcasters and media companies. True!
A who's who of companies developed the current line up from Scripps, to Nexstar, Byron Allen, Sony, and NBC Universal. But one of the first to enter the field, is one of the best. That would be MeTV.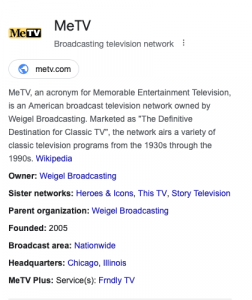 You may think "Me" as in what's available for me to watch, but MeTV actually stands for "Memorable Entertainment Television" (much like ESPN is the Entertainment & Sports Programming Network).
Yes, the letters mean something.
When MeTV began broadcasting back in 2005, it was only seen locally in Chicago. By 2008 viewership extended to Milwaukee and by 2010, MeTV was launched nationally by the Weigel Broadcasting Co.
---
Who (or What) is Weigel Broadcasting?
Glad you asked. The company goes back five decades (!?! Indeed!) and has developed several networks with companies like MGM and Tribune. Now they are concentrating their efforts and promotions on this one network– So much so that they added original programming to support the hours of catalog programs. Here's the best part: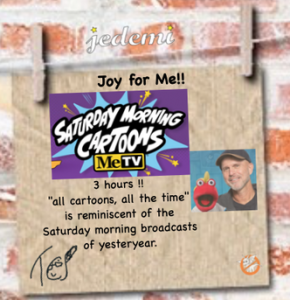 They are the last network to have Saturday Morning Cartoons!!
[So worth shouting from the rooftops]
This three-hour "all cartoons, all the time" block is reminiscent of the Saturday morning broadcasts of yesteryear. Features include theatrical cartoon shorts came from the brilliant minds and pens of animation legends like Chuck Jones, Tex Avery, Max Fleischer, and William Hanna and Joseph Barbera.
They remain as beautiful and hilarious as you remember…
---
And there's more!
I was even more thrilled to discover that MeTV also has a daily hosted cartoon program called "Toon In With Me." Is that a great name or what? Just sayin…
Furthermore, if the Horror genre is your thing, then read this piece about "The Crawling Eye" (Gosh… just the name creeps ME out!).
---
I'd say that Weigel Broadcasting is in the business of curating the classics —similar to the Turner Classic Movies (TCM) approach— but with a focus on nostalgic TV series (and commercials).
They clearly love what they do and I felt it strongly while preparing for the arrival of Peg.
These people got me through dull programming on linear TV. They seem to REALLY love their job.
Sure, as I head on home, I could try to find these shows on my Roku, but Weigel's MeTV is on to something. It really is fun to be able to experience "must see TV" in the classic way.
---
That's a Wrap!
On that note, my days of viewing linear TV are coming to the end as Peg and I are heading home. Onto a new chapter for the both of us to navigate together. For sure, I've got some streaming to catch up on! Stay tuned for more ponderables.
Thanks for reading! (and pondering with me)! -TC
---
Bonus Link…
If you've followed me from the start, I was doing ponderables about shopping (Yes, a little tougher now in my current medical condition). Well, here's something kinda fun for your shop-from-home experience — they have their own online mall. Who knows? Perhaps some holiday gifts?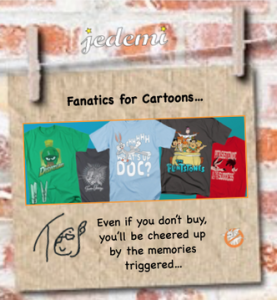 My editor says, "hide the credit card!" LOL!!
---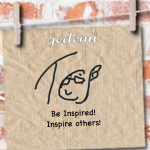 —30—